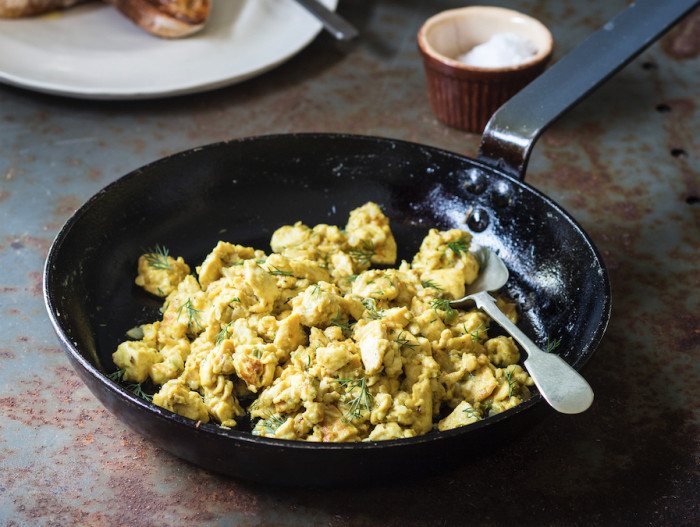 If you're not into vegan food but are ready to try, do we have a cookbook for you! Meat eaters and restaurant veterans Shannon Martinez and Mo Wyse have crafted a collection of seriously delicious recipes using no animal products at all. Learn to make the best tofu scramble, and never wonder what to make for brunch again. 
Forget what you know about tofu. Forget what you know about tofu scramble. Shannon's scramble is award-winning. And what award is that, you say? It's the one our stomachs give out every morning we're fortunate enough to eat this dish. Slap it on toast, add your favorite veg to make it more omeletty, put it in a burrito or brekkie tacos, or eat it directly from the pan, whatever way you choose … It's perfect, so enjoy it.
Ingredients
Sauce
1/4

cup

all-purpose flour

1/4

cup

nutritional yeast

1/4

teaspoon

ground turmeric

1/4

teaspoon

sweet paprika

1/2

teaspoon

black salt (optional, but worth getting)

1

cup

soy milk

1

teaspoon

Dijon mustard

2

tablespoons

butter (Nuttelex, or any dairy-free margarine)
Scramble
1

tablespoon

butter (Nuttelex)

1

tablespoon

olive oil

1/2

onion, finely chopped

2

garlic cloves, crushed

1/2

jalapeno, finely chopped (seeds removed for a milder taste)

1

pound 2 ounces

extra-firm tofu, drained and crumbled into biggish chunks

Small handful

favorite herb
Directions
For the scramble
To make the sauce, combine the flour, yeast, spices and black salt (if using) in a medium-sized saucepan over medium heat. Slowly add the soy milk, whisking constantly until you have a smooth sauce. Add the mustard and butter and whisk until thick and creamy. Reduce the heat to as low as possible and simmer, whisking often, for 5 minutes. Remove from the heat and set aside while you make the scramble.

Heat the butter and oil in a large non-stick frying pan over high heat. Add the onion and a pinch of salt and cook, stirring occasionally, until golden brown. Toss in the garlic and jalapeño and cook for about 30 seconds.

Add the drained, crumbled tofu and gently stir to coat in the onion mixture. Without stirring, fry the tofu until it browns slightly on one side. If you find that your tofu is letting out too much liquid and it's starting to stew instead of fry, tilt the pan and remove the liquid with a spoon.

Add the reserved sauce and gently fold through the tofu. Be careful not to break up the tofu too much or you'll end up with some kind of weird eggy tofu soup.

Finish with a scattering of your favourite herb and season to your liking.