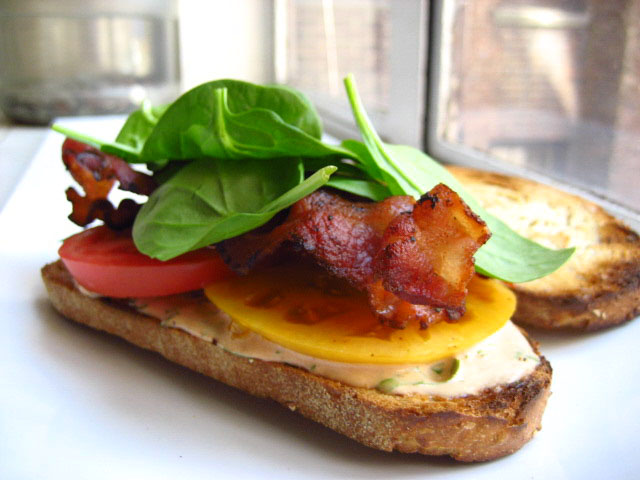 Thick slices of crispy bacon, perfectly ripe tomatoes, and fresh lettuce are the main components to the BLT. The simplicity of this recipe allows plenty of room for creative freedom. You can change out the lettuce for a more nutritional green—try smashed avocado instead of mayo, or add a fried egg. Another way to customize is to make your own mayonnaise; this particular recipe has a jazzed-up mayonnaise, with cilantro and chipotle peppers in adobo sauce* that gives it a spicy kick.
This recipe also calls for heirloom tomatoes. In case you're not up on 'em, heirloom tomatoes are those funky-looking tomatoes, as opposed to the usual perfect-looking red ones you see. They're called heirlooms because they're grown from seeds passed down from generation to generation, and because they're (usually) organically grown, they tend to appear in pure, sometimes grotty-looking forms. You might see one that's red, another that's yellow and green, and they may even look dirty. No matter, they just taste better, especially on a BLT.
*chipotle peppers in adobo sauce is available canned in most supermarkets. We like La Costeña's.
Ingredients
3 to 4

thick slices

double-smoked bacon

2

thin slices

large heirloom tomato

1

handful

baby spinach

2

slices

whole grain bread, lightly toasted or grilled

1 1/2

tablespoons

mayonnaise

1 1/2

tablespoons

chipotle peppers in adobo sauce

1

tablespoon

fresh cilantro, chopped
Directions
Heat a large sauté pan or cast iron pan on medium low heat.
Lay the strips of bacon in a single layer on the pan.
Slowly cook the bacon, rendering out the fat, until lightly browned on one side.
Using a fork or tongs, turn the strips of bacon over to cook the other side. When the bacon strips are sufficiently cooked remove from pan and place on a plate lined with a paper towel to absorb the excess fat.
Pour out excess fat from the pan into a jar or a container to either dispose of or to store. (Never pour bacon grease down the sink, it will clog your pipes.)
In a small bowl, combine mayonnaise, adobo sauce, and cilantro.
Spread mayonnaise over the bread slices.
Layer the sandwich with sliced tomato, bacon, and spinach.
Cut on the diagonal.
Eat immediately.