Best Basic Stuffed Peppers Recipe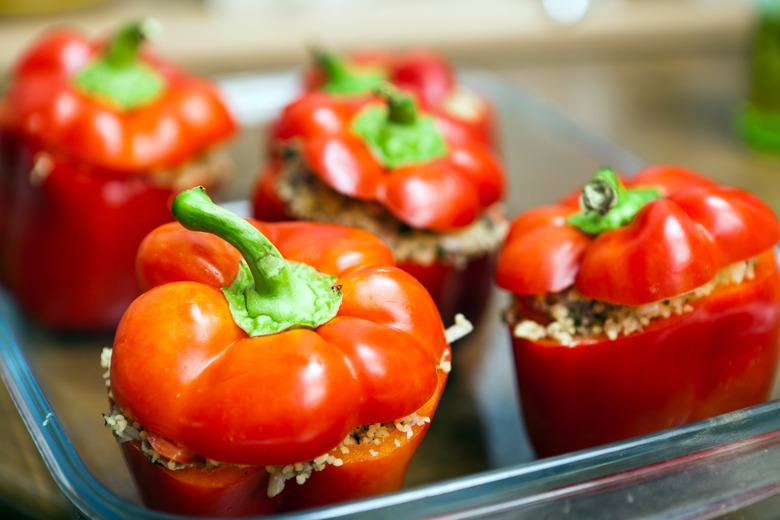 Master this recipe and then stuff your peppers with anything you desire.
Red bell peppers are an amazing thing. You can cut them open, scoop out the seeds and fill them with all sorts of ingredients: cheese, rice, spices, herbs. This recipe goes the vegetarian route, but if meat's your thing, try crumbling in hot Italian sausage, ground beef or ground turkey, along with grains and herbs. The best thing about learning the basic stuffed pepper recipe is experimenting with ingredients to stuff inside it.
Best Basic Stuffed Peppers Recipe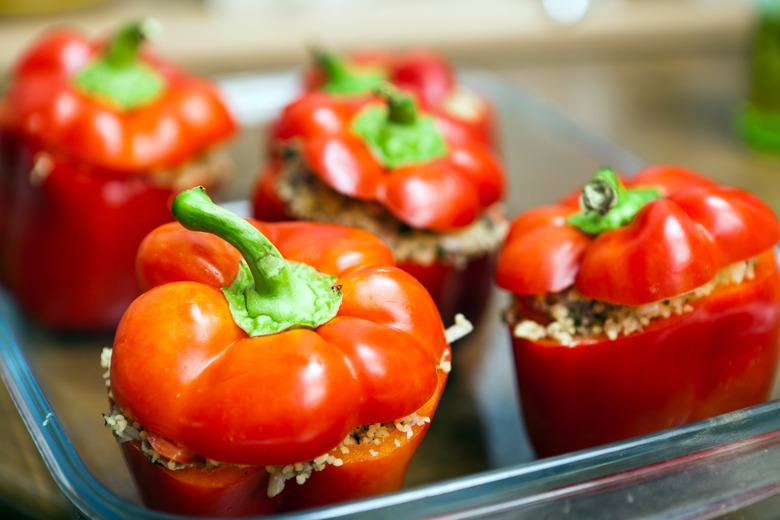 Ingredients
3 tablespoons olive oil
1 red onion
2 yukon gold potatoes
1 eggplant
2 jalapeños
1 cup tomato sauce
1 tablespoon fresh oregano or marjoram
1 large egg
2 tablespoons ricotta cheese
1/2 cup Parmesan cheese
Directions
Cut the top off the peppers and remove the seeds and ribs and discard. Brush the peppers inside and out with the olive oil and set aside. Reserve the tops.
Heat the 3 tablespoons olive oil in a large saute pan over medium-low heat. Add the onion, potatoes, and eggplant and cook until golden, about 10 minutes. Add the jalapeños, half of the tomato sauce and oregano and saute until the potatoes are tender and cooked through, another 10 minutes. Set aside to cool.
To make the filling, combine the egg, cottage cheese, and reserved potato-eggplant mixture in a large bowl. Divide the filling between the bell peppers. Arrange the peppers upright in a 9x13 baking dish (a sheet pan will do but they may fall over, so use some foil to keep them in place) and top with the remaining sauce and sprinkle each generously with the Parmesan. Place the lids on top and bake until the peppers are tender and the filling is cooked through, 30 to 40 minutes.