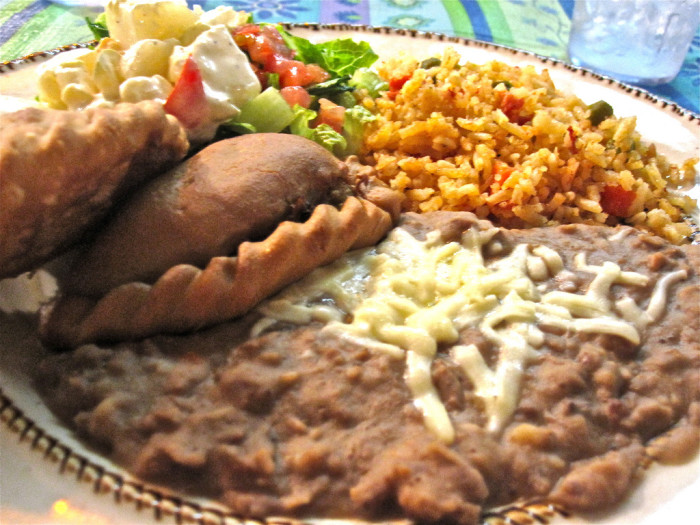 What could possibly make a homemade burrito consisting of fridge leftovers better, you ask? Why, homemade refried frijoles, of course! Refried beans are incredibly versatile, protein-packed, and nutritious. Most importantly, they're also easy to make. Whip them out for an impromptu multi-layered nacho attack, fortify any number of quesadillas, or top them with fried eggs. The possibilities are limitless.
Start this recipe off by soaking beans in water overnight to soften them—buying dried beans in bulk is more economical and eco-friendly than canned.
Ingredients
1

cup

dried pinto beans, soaked overnight in water

1

cup

yellow onion, chopped

1

tablespoon

garlic, minced

1

whole

jalapeno, seeded and chopped

1/2

cup

vegetable oil

1

teaspoon

ground cumin

1/2

teaspoon

salt

1/2

cup

monterey jack cheese, shredded
Directions
1. Transfer beans to a medium pot, cover with water by 2 inches and bring to a boil.
2. Lower heat and simmer for about 2 hours, or until beans are very tender, adding water as necessary to keep beans submerged.
3. Remove from heat and mash briefly with a potato masher or back of a spoon until they reach desired consistency.
4. In a large skillet, heat vegetable oil over medium heat and saute onions until translucent, about 5 minutes. Add garlic, jalapeno, and cumin and cook for another 5 minutes.
5. Add beans and any remaining cooking liquid and stir over low heat for 10 minutes, adding a splash of water if mixture becomes too thick.
6. Top with shredded cheese and serve.