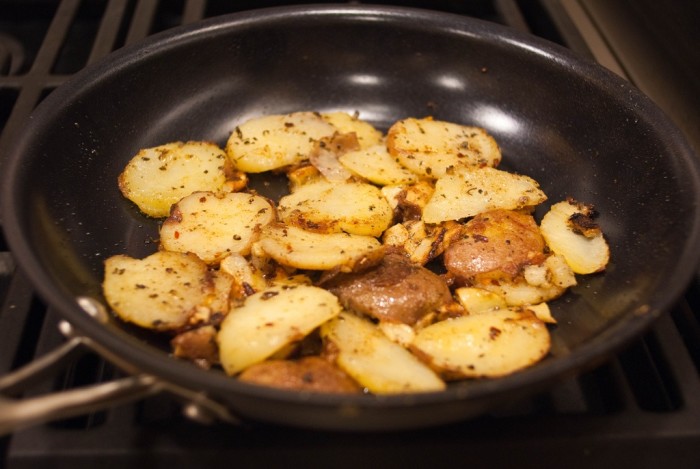 Home fries are a key breakfast, brunch, or hangover staple. This best basic home fries recipe will give you potatoes that will rival your favorite greasy spoon. If you shred your potatoes here, you will have hash browns. And consider overcooking your home fries a bit for maximum crispiness.
Ingredients
2

large

potatoes, thinly sliced into half rounds or diced

1

medium

onion, thinly slices

1/4

cup

butter
Directions
Dicing or slicing your potatoes is purely a personal choice. We like our hash browns with potatoes thinly sliced on a mandoline, or in a small dice. If you like big chunks of potatoes, then you will want to parboil — partially boil — the potatoes before cooking. Just cook in boiling water for 5 minutes, drain and start the recipe from step one.
Heat the butter in a pan until slightly sizzling.
Place a layer of potatoes on the bottom of a medium sized frying pan. Top with a layer of onions. Sprinkle with salt and pepper
Continue layering potatoes and onions until you have used them all up.
Lower the heat to medium.
Cover the pan and cook for about 10 minutes until the bottom layer is browned and a little bit crispy.
Flip the potatoes over, one section at a time until all of the browned layer is on top.
Cook for another 10 minutes until the new bottom layer is browned.
Remove the lid and cook for another 10 minutes.
This is the basic home fries recipe, which is crispy, starchy, and fabulous as is. But one you've mastered this basic home fries recipes, you can start adding you own personal touches. Consider cooking the potatoes in some bacon fat, adding a clove of minced garlic, slivers of roasted red peppers or adding more spice and herbs like basil, red pepper flakes, nutmeg, or oregano.