Best Basic Falafel Recipe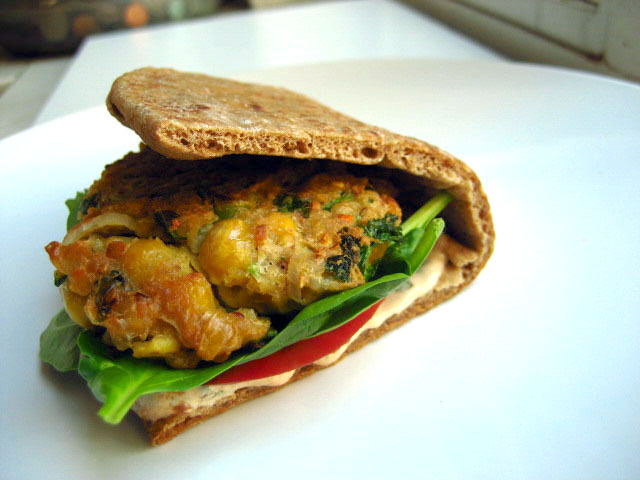 Falafel Sandwich photo
There is nothing like a plate of hot, crispy falafel served with warm pita. Falafel is a ball or patty made of chickpeas. It's usually fried, but sometimes baked (the baked ones don't get nearly as crispy).
Many people know the falafel to have a connection with Israel, but actually the recipe originated in Egypt with fava beans. During some religious holidays, meat was forbidden, and beans were often used as an alternative. A few modern-day recipes use fava beans, but the more commonly used bean is garbanzo (chickpea). As the falafel spread to the Jewish-Israeli community it slowly became a street-food staple.
These days, falafel stands can be seen on many street corners in urban centers around the world and in Middle Eastern joints in strip malls throughout the US; it's a popular food item worldwide for long, alcohol-fueled nights.
Falafel is an easy to-go menu item, but it's so simple you can make it at home. The ingredients are cheap and the method simple. The seasonings can vary from place to place, and as you can see the recipe below has a little cilantro, garlic, coriander, cumin, and green onion. Falafel is also very versatile; you can eat it with pita as either a sandwich or as part of a salad plate with hummus and couscous, or serve falafel balls as an appetizer.
Best Basic Falafel Recipe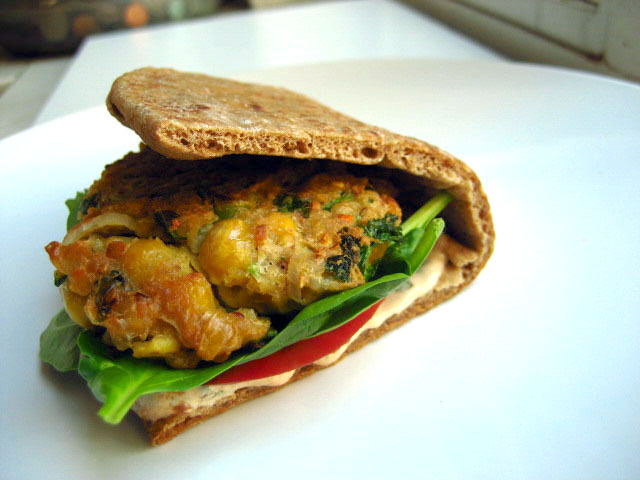 Ingredients
1/2 cup plain Greek yogurt
4 tablespoons fresh cilantro
1 tablespoon tahini
2 tablespoons fresh lime juice
1/2 teaspoon fine grain sea salt
1 (15-ounce) can organic chickpeas
6 green onions
1 large clove garlic
3 tablespoons sunflower oil
1 1/4 teaspoon ground coriander
1/2 teaspoon lime zest
1/2 teaspoon ground cumin
1/2 teaspoon crushed red pepper flakes
1 large egg
whole wheat pita
fresh tomato slices
fresh spinach
Directions
In a small bowl, combine yogurt, 1 1/2 tablespoons cilantro, tahini, 1 tablespoon lime juice, and 1/4 teaspoon salt; set aside.
In a large bowl, combine chickpeas, green onion, garlic, remaining 2 1/2 tablespoons cilantro, 1 tablespoon sunflower oil, remaining 1 tablespoon lime juice, coriander, lime zest, cumin, ground red pepper flakes, and remaining 1/4 teaspoon salt.
Mash together with a fork or potato masher until chickpeas are completely broken down and mixture is well combined.
Add egg.
Stir mixture until completely combined.
Divide mixture into 6 equal portions; shape each portion into a 1/2-inch thick patty.
In a large skillet, heat remaining 2 tablespoons sunflower oil in a large pan over medium-high heat.
Fry each patty 3 to 4 minutes per side, or until golden brown and firm.
Serve hot or cold with yogurt sauce, warm pita, tomatoes, and spinach if desired.