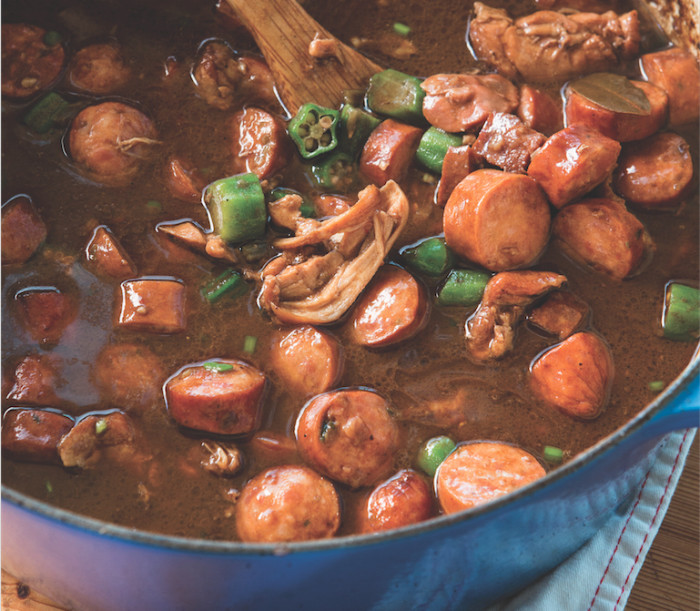 New Orleans icon John Besh's fourth and latest cookbook is a collection of family recipes for the home cook with a hankering for Cajun and Creole spice. With simple, hearty fare, detailed instructions and anecdotes that will make you feel like you're right there in Louisiana, a hot (or really hot) meal is just a few ingredients away.
How you make your gumbo depends on where you come from. Those of us within eyesight of New Orleans like the rich, deep flavor of a Creole gumbo. We use tomatoes and/or tomato paste, which you'd never see in a gumbo from Cajun country. And for me, it's not a real gumbo without okra; fresh is better, but out of season, frozen is okay.
Ingredients
3/4

cup

chicken fat or canola oil

3/4

cup

flour

2

large onions, chopped

1

large chicken, cut into 12 pieces

2

tablespoons

Creole spices

2

pounds

spicy smoked sausage, sliced 1/2-inch thick

2

stalks

celery, chopped

2

green bell peppers, seeded and chopped

3

cloves

garlic, minced

3

quarts

chicken stock

1

tablespoon

dried thyme

2

bay leaves

6

ounces

Andouille sausage, roughly chopped

2

cups

sliced okra

1

tablespoon

worcestershire

Tabasco

Salt and pepper

6

cups

cooked white rice
Directions
For the gumbo
Make a roux by heating the fat in a large heavy-bottomed pot over high heat. Whisk the flour into the hot fat. It will immediately begin to sizzle. Reduce the heat to medium and continue whisking until the roux turns a deep brown color, about 15 minutes. Add the onions, stirring them into the roux with a wooden spoon. Lower the heat to medium-low and continue stirring until the roux turns a glossy dark brown, about 10 minutes.

Season the chicken pieces with the Creole spices and add the chicken to the hot roux. Once the chicken is well-seared, add the smoked sausage and stir well. Then add the celery, bell peppers, tomatoes, and garlic. Raise the heat to medium-high, stir for another 3 minutes or so, then add the stock, thyme, and bay leaves.

Bring the gumbo to a boil while stirring, then reduce the heat to medium-low and let simmer for 45 minutes. Stir occasionally and skim the fat from the surface of the gumbo (moving the pot half off the burner helps collect the impurities).

Add the andouille sausage, okra, and Worcestershire, season well with Tabasco, salt, and pepper, and simmer for another 45 minutes. Skim the gumbo before serving with the white rice.