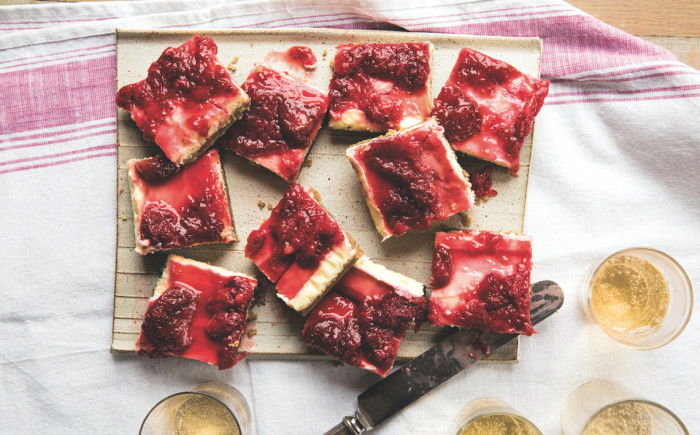 Food writer Kristin Donnelly's new cookbook brings back the old-school potluck dinner with contemporary new recipes. Just because it has to be portable, universally pleasing and easy enough to make in large batches doesn't mean you're stuck with beige casseroles and boring side dishes. Pick up a copy of Modern Potluck and feed that crowd right!

Potluck Prep: The unsliced cheesecake bar can be refrigerated in the pan for up to 4 days. Sliced bars can be individually wrapped and refrigerated for up to 3 days.

Jam Variation: To flavor the jam, try adding one of the following: ¼ teaspoon pink peppercorns; 1 thyme sprig (which you remove before eating); ½ teaspoon dried lavender; or a tiny pinch of ground cardamom.
Ingredients
For the crust
1/2

cup (1 stick)

butter, softened, plus more for the pan

1

cup

buckwheat flour

3/4

cup

almond meal

1/2

cup

packed light brown sugar
For the filling
1

8-ounce package

cream cheese

1

tube (about 11 ounces)

fresh goat cheese

2/3

cup

granulated sugar

2

large eggs

Finely grated zest from 1 medium lemon

1 1/2

cups

Quickest Strawberry Jam or store-bought jam
Quickest Strawberry Jam (makes about 1 1/2 cups)
2

pounds

strawberries, hulled

1/2

cup

sugar
Directions
For the jam
In a wide, nonreactive pan, combine the straw­berries and sugar. Use your hands to mash the strawberries. Keep working until the mixture looks like a rough, liquidy jam and the sugar is dissolved.

Bring the mixture to a simmer over medium heat and cook, skimming off the foam occasionally, until thickened and jammy, about 20 minutes. (The jam can be covered and refrig­erated for about 1 week.)
For the cheesecake bars
Preheat the oven to 350°F. Line a 9 × 13-inch pan with parchment paper so the edge overhangs by 1 inch on the long sides. Butter the exposed sides of the pan.

In a large bowl, whisk the buckwheat flour with the almond meal, brown sugar, and salt. Using a pastry blender or your fingers, work the ½ cup of butter into the dry mixture until incorporated. Press the crust into the prepared pan in an even layer.

Bake for about 20 minutes, until dry to the touch. Let cool slightly.

Meanwhile, make the filling. In a large bowl, using a handheld electric mixer, beat the cream cheese with the goat cheese, sugar, eggs, and lemon zest until fluffy. Spread the filling over the warm crust.

Bake for 15 minutes, until the top feels dry. Spread the jam over the cheese filling and bake for 10 to 15 more minutes, until sticky. Transfer the pan to a wire rack and let cool completely. Refrigerate for at least 3 hours, until well chilled.

Use the paper to lift the cheesecake out of the pan, slice into bars, and serve.