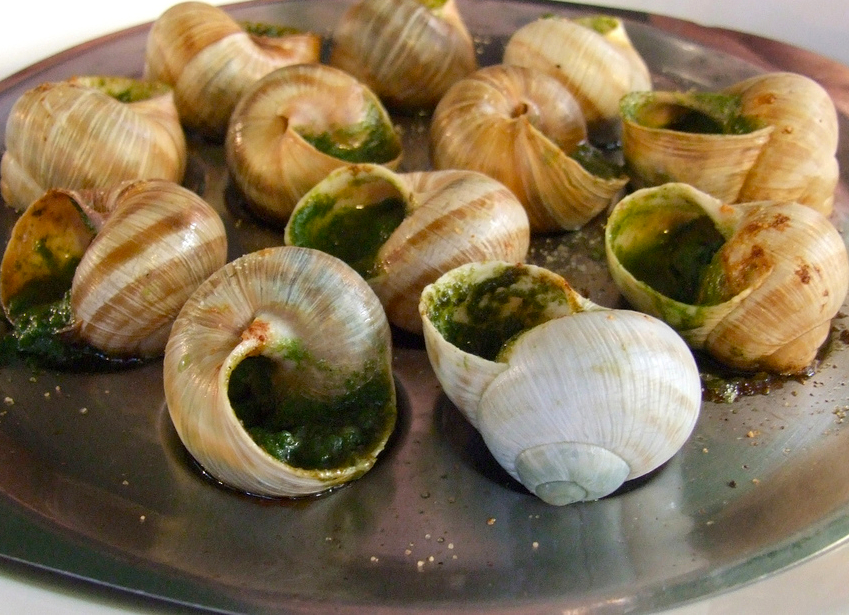 When it comes to learning classic French dishes, look no further than the expert chefs at Alain Ducasse's NYC bistro, Benoit. Their authenticity is unparalleled, so you know you can trust Executive Chef Philippe Bertineau's escargot technique. Prepare for one of the best bites from the garden. Get it? Says Chef Philippe:
"At Benoit, we import cans of wild snails from Burgundy called pomecea, they're the best of the best. We prepare them in a very traditional fashion, because simple is always best. I like to serve the snails out of their shells in a escargotière, which ensures a neat presentation with each snail in its own compartment. When it comes down to it with escargot, though, it's all about the parsley butter, garlic and shallot."
Ingredients
Escargot
36

wild Burgundy snails out of their shells

4

ounces

shallots, finely minced

1

head

garlic, peeled and finely chopped

1

bunch

parsley

3

tablespoons

butter

1

small

brioche, sliced and cut into 36 small rings each the size of a quarter
Butter
1

pound

butter

1

bunch

flat Italian parsley, chopped

1/4

bunch

tarragon

1/2

head

garlic

2

teaspoons

fine sea salt

1

teaspoon

freshly ground black pepper
Directions
For the Escargots:
Rinse the wild Burgundy snails.
In a sauté pan at low heat, add butter and slowly sauté the snails with the minced shallots and garlic for 10 minutes.
Season to taste and finish by adding the fresh chopped parsley.
Set aside and let it cool.
For the Butter:
Wash and remove the stems from the parsley, peel and chop the garlic, and make sure the butter is at room temperature (soft).
In a blender, mix the ingredients until very smooth. Season.
For Assembly:
In 12 snail gratin dishes, place 1 snail in each hole and cover with garlic butter up to the brim.
Add fine brioche croutons over each snail.
Pre-heat oven at 350ºF and bake each dish for approximately 7 minutes, or until the butter is bubbling and the croutons are golden-brown.
Serve and enjoy!
Find more French fare on Food Republic: