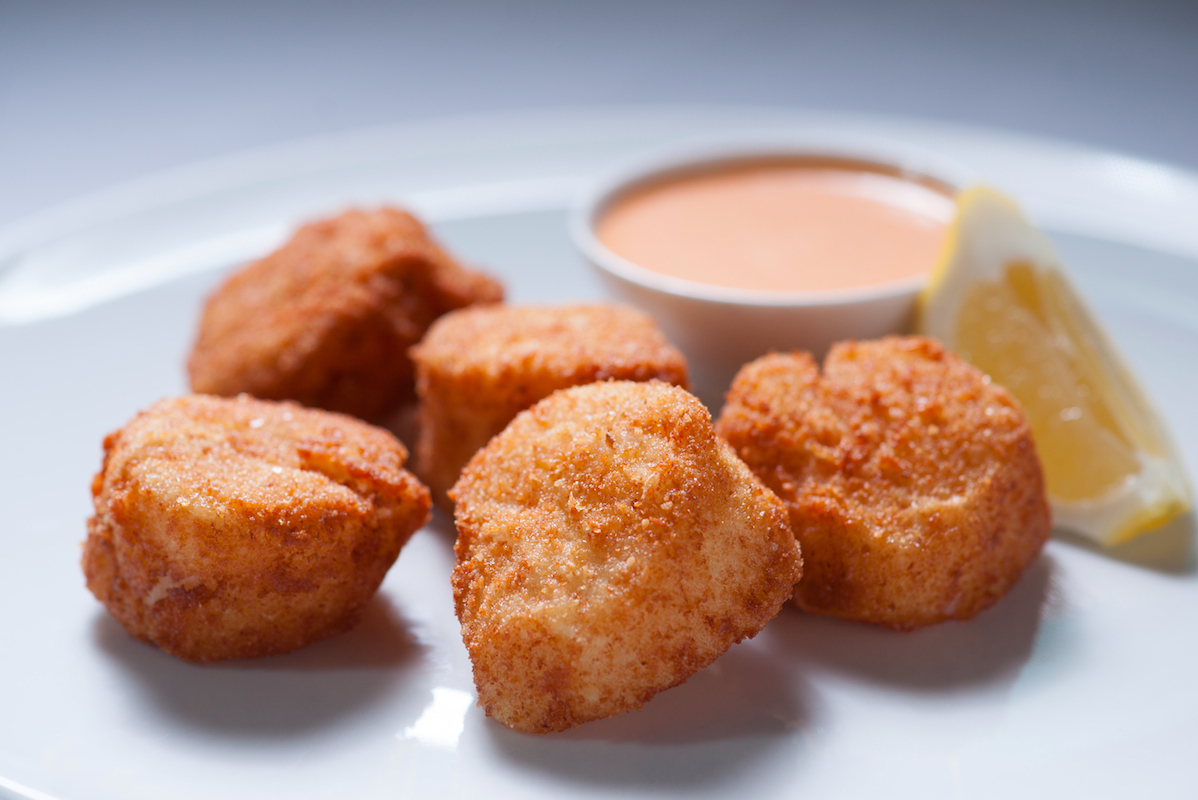 No food library is complete without a truly great fish cookbook. Thankfully, chef Ben Pollinger's latest masterpiece, School of Fish, teaches the skills you need to from "occasional salmon maker" to confident seafood cook. Think you can't make great scallops at home? Fire up the fryer and think again. 
This crisp, light breadcrumb coating is perfect for scallops. The scallops should be cooked in two batches but they may be breaded all at once. Make sure to cook them medium-rare. Serve with lemon and tartar sauce or any other creamy mayonnaise-based sauce.
Ingredients
3

quarts

canola oil or as needed for frying

1 1/2

pounds

large (U15) sea scallops (about 20), tough white side muscles removed

Fine sea salt and freshly ground black pepper

1/3

cup

all purpose flour

2

large

eggs

1

cup

dried breadcrumbs
For Serving
tartar sauce (or any mayonnaise-based sauce)

lemon wedges
Directions
In a large, deep pot, heat the canola oil over medium-high heat until it registers 330°F on a deep-fry thermometer.
Line a baking dish with a double layer of paper towels and place it near the stove.
While the oil is heating, in another baking dish, season the scallops on both sides with salt and pepper.
Place the flour in a shallow bowl, deep plate, or baking dish on the counter.
In a shallow bowl, whisk the eggs with a fork and set the eggs next to the flour.
Place the breadcrumbs next to the egg in another shallow bowl, deep plate or baking dish.
Place a baking sheet next to the breadcrumbs to hold the breaded scallops.
Toss 2 of the scallops in the flour to coat. Shake off the excess with one hand and drop them in the egg.
Toss with your other hand to coat the scallops with egg. Remove the scallops with your messy hand and place them in the breadcrumbs.
Use your dry hand to coat them with the breadcrumbs and remove them to the baking sheet, placing the scallops in a single layer.
Continue to coat all of the scallops.
When the oil reaches 330°F, carefully place half of the scallops in the oil one by one holding the scallops close to the oil and dropping them in gently.
After about 30 seconds, move the scallops around gently with a spider, skimmer or slotted spoon to prevent them from sticking to one another.
Continue frying, taking the temperature of the oil and adjusting the heat as needed, until the scallops are golden brown and a cake tester inserted into the scallops feels warm but not hot when placed below your lip, about 2 minutes total.
Smaller scallops will cook faster. Start testing them after 1 1/2 minutes.
Remove to the paper towel-lined plate and toss gently.
Adjust the heat as needed to return the oil to 330°F. Fry the rest of the scallops.
Serve immediately with the tartar sauce and lemon wedges.
Find more shellfish recipes on Food Republic: