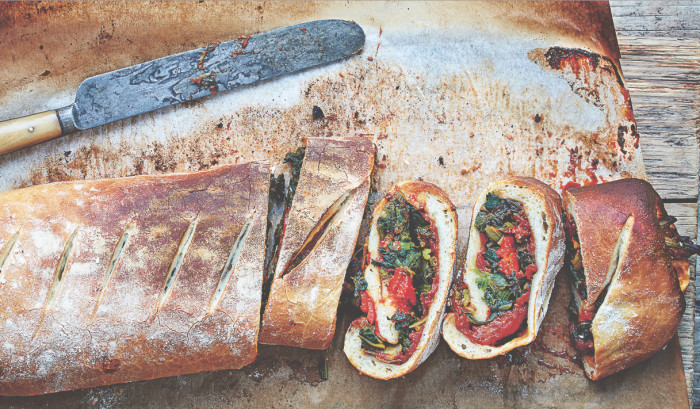 This vegan bell bepper and spinach stromboli is worth every minute of your effort. Stromboli is basically a gigantic pizza roll-up, which means you can just about fill it with anything you like. Be sure not to overfill, as it can make the dough less crispy and it's a heck of a lot messier to eat.
Reprinted with permission from The New Vegan
The New Vegan, a collection of recipes from dedicated herbivore Aine Carlin, is a far cry from the crunchy tomes of yesteryear. Bring your vegan repertoire up to date with this vibrant, flavor-packed recipes that don't force traditional animalistic fare into a unwilling mold. All these recipes are spot-on delicious, so try this bell pepper and spinach stromboli on for size.
What's a stromboli? Watch our newsreel of Italian food terms.
Ingredients
1 2/3

cups

all-purpose flour

1

teaspoon

brown sugar

Pinch

salt

Scant 1

teaspoon

fast-acting dried yeast

2

tablespoons

olive oil, plus extra for drizzling

2/3

cup

lukewarm water
Sauce
1 to 2

tablespoons

olive oil

3

large garlic cloves, finely sliced

sea salt and freshly ground black pepper

Pinch

brown sugar

1

heaping teaspoon

mixed Italian herbs or dried oregano

1

14-ounce can

plum tomatoes

Splash

balsamic vinegar
Filling
1

large red bell pepper, seeded and cut into eighths

12

ounces

spinach

1/2

cup

grated vegan cheese or 2 tablespoons nutritional yeast (optional)
Directions
For the stromboli
Sift the flour, sugar, salt, and yeast onto a clean work surface. Whisk the oil and water together in a bowl or jug. Make a well in the center of the flour mixture and gradually add the water/oil. Use a whisk or fork to work the flour into the liquid, adding a little more liquid as you go until it forms a rough dough — you may not need all the water.

Use your hands to work the dough into a rough ball shape and knead for 10 minutes until smooth and elastic.

Oil a large bowl and roll the dough ball in it to coat. Cover with plastic wrap and set aside in a warm place to rise for 1 hour.

For the sauce, heat a tablespoon of olive oil in a large heavy-bottomed saucepan. Add the garlic and gently cook over medium heat until fragrant. Add a touch of salt, the sugar, and herbs. Gently sauté for a few minutes.

Pour in the tomatoes and crush gently with the back of a spoon to break them up. Season and simmer for 20 minutes before adding the balsamic vinegar. Continue to simmer for 30 to 40 minutes or until thickened.

For the filling, heat a large grill pan and add the red bell pepper pieces to the pan, skin-side down, and cook until charred. Wrap immediately in plastic wrap and let cool for around 10 minutes before peeling off the skin — it should easily come away from the flesh. Slice the pieces of pepper into even strips.

Bring a saucepan of water to a boil and add the spinach. Gently wilt for about 5 minutes before removing with a slotted spoon and squeezing out any excess liquid. Transfer to a cutting board and mince to a pulp with a sharp knife. Season and set aside.

Once the dough has risen, turn it onto a clean surface and knock the air out by kneading it for a minute or two. Flour a large baking sheet and press or roll the dough out into a rough square shape, leaving a little room around the edge of the pan. Now preheat your oven to the highest setting — about 475°F.

Spoon over the cooled sauce and spread, leaving an inch of bare dough at the top — this will make sealing the stromboli easier.

Distribute the spinach before dispersing the pepper strips evenly across the dough. At this stage you could also sprinkle over some grated vegan cheese or a little nutritional yeast.

From the end closest to you, roll the stromboli carefully away from you, tucking the seam under when you reach the top. Move the stromboli diagonally across the baking sheet so it has room to expand and score the top with a floured knife.

Bake for 15 minutes or until completely crisp and golden before transferring to a serving board. Cut into thick, even pieces for a great communal party dish.