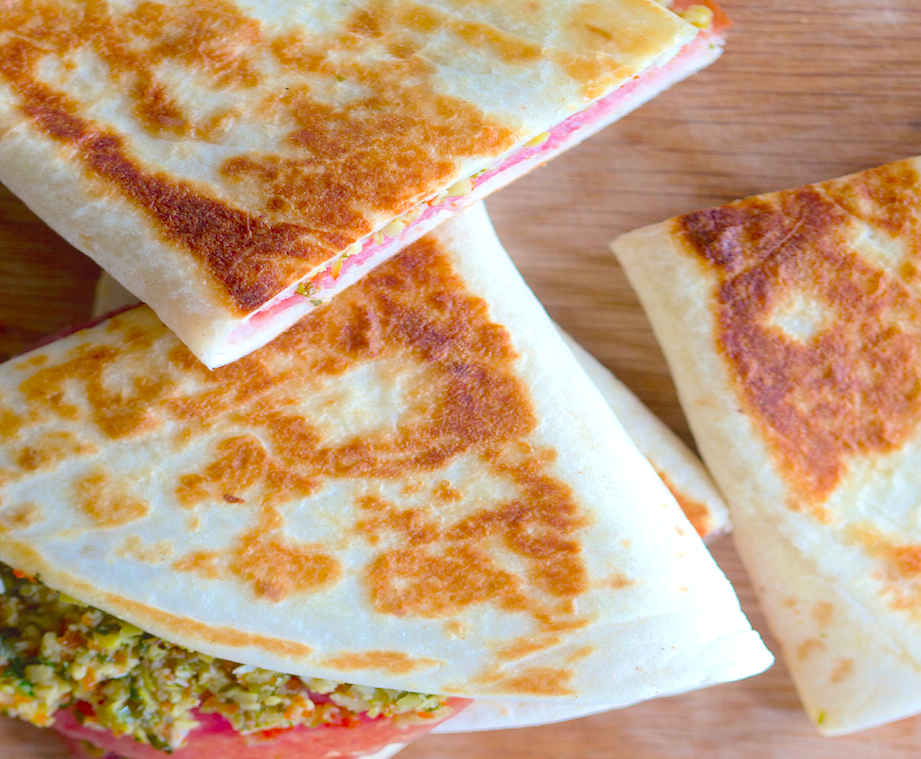 You love your cast-iron skillet, and we love that you love it. Make the most of this bromance with The New Cast Iron Skillet Cookbook, an ode to the best, most versatile and frankly attractive pan in your kitchen. With recipes from the American South to Europe, South America, Asia and beyond, you'll have plenty of reasons (besides "too much bacon") to break out this book and cook something great. Can't decide between a muffuletta and a quesadilla? Problem solved. 
Says author Ellen Brown: One of the reasons I love quesadillas is that there's so little bread involved, and the toasted tortillas add a lovely crispiness to the sandwich. That's certainly true of this quesadilla version of the Italian American cold cut and cheese sandwich. In this case, I've topped it with olive salad.
Reprinted with permission from The New Cast Iron Skillet Cookbook
Ingredients
1

cup

pimento-stuffed green olives

3

cloves

garlic, minced

2

tablespoons

parsley, chopped

1/4

cup

olive oil, divided

1

tablespoon

white wine vinegar

6

(8-inch)

flour tortillas

6

slices (1/4 pound)

mortadella

6

slices (about 1/4 pound)

baked ham

12

slices (about 1/4 pound)

Genoa salami

6

slices (about 1/4 pound)

provolone cheese

salt, to taste
Directions
Place the olives in a food processor fitted with a steel blade and pulse until finely chopped.
Transfer the olives into a small mixing bowl and add the garlic, parsley, 1 tablespoon of the olive oil and the vinegar. Stir well and set aside.
Preheat the oven to 150ºF and line a baking sheet with heavy-duty aluminum foil.
Heat a 12-inch skillet over medium heat.
Place 1 tortilla in the skillet and cook for 1 1/2 minutes, or until soft and puffed slightly at the edges.
Flip the tortilla with tongs and cook for 1 to 2 minutes, or until browned and puffy. Repeat with the remaining tortillas.
Layer 1 slice each of mortadella and ham, 2 slices of salami, and 1 slice of provolone on half of each tortilla.
Top with one-sixth of the olive salad.
Fold the tortillas over the filling and press them closed with the palm of your hand.
Brush the tortillas on both sides with the remaining olive oil and sprinkle them lightly with salt.
Return the skillet to the stove and heat it over medium-high heat.
Add 2 of the quesadillas and toast them for 1 to 2 minutes, or until the bottoms are crispy and brown.
Turn the tortillas gently, and toast the other side.
Place the cooked quesadillas on the baking sheet and keep them warm in the oven while cooking the remaining 4 quesadillas.
To serve, cut each quesadilla in half. The quesadillas can be assembled before cooking 1 day ahead and refrigerated, separated by layers of plastic wrap.
Find more quesadillas on Food Republic: