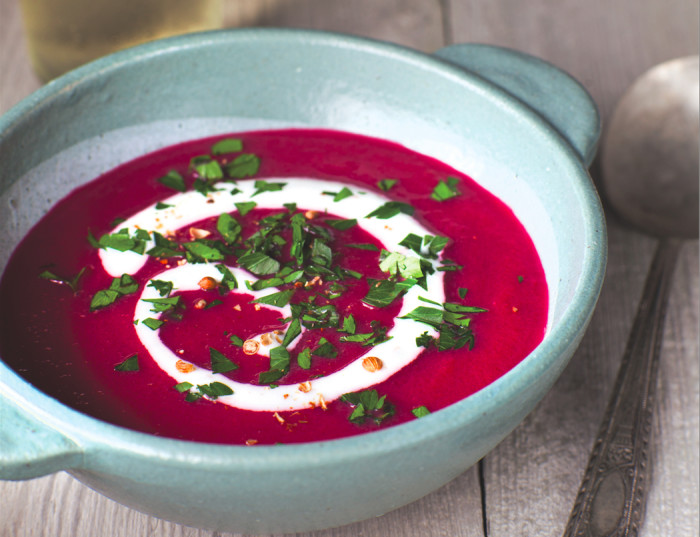 That's right, they're not just for toast anymore! Jam, marmalade and other fruit and vegetable preserves are a welcome addition in this new collection of recipes from James Beard-nominated Rachel Saunders, author of Blue Chair Jam Cookbook. How many dishes can you incorporate jam into? Let's start with soup.
This exquisitely balanced soup boasts a striking combination of colors and flavors. It is an unusual and ingenious use for plum jam, whose hue and tartness perfectly enhance the beets. The bright garlicky coriander yogurt and parsley garnishes show off the beauty of the soup brilliantly.
Reprinted with permission from Blue Chair Cooks With Jam & Marmalade
Ingredients
Soup
1/4

cup

neutral-flavored olive oil

1

medium

yellow onion, thinly sliced

4

cloves

garlic, finely chopped

2

ribs

celery, thinly sliced

1/4

teaspoon

cayenne pepper

1/4

teaspoon

sweet paprika

freshly ground black pepper

2 1/2

pounds

dark red beets, peeled and cut into 1/2-inch cubes

1/2

pound

russet potatoes, peeled and cut into 1/2-inch cubes

1/2

cup

bright-flavored red or purple plum jam

freshly squeezed lime juice, as needed

kosher salt
For Serving
1 1/2

cups

whole milk yogurt (not Greek)

2

cloves

garlic, very finely grated

1/2

teaspoon

kosher salt

2

teaspoons

coriander seeds

1/2

cup

fresh flat-leaf parsley, finely chopped
Directions
Heat the olive oil in an 8-quart soup pot over medium heat.
Add the onion, garlic and celery and sauté until wilted and verging on translucent, about 5 minutes.
Sprinkle the cayenne, paprika and several grinds of pepper over the onion mixture and continue cooking for another 1 to 2 minutes.
Add the beets, potatoes, plum jam and 9 cups of water.
Bring the mixture to a boil over high heat, then lower the heat and simmer gently for 1 hour, or until the beets and potatoes are very tender.
Puree the soup using a handheld immersion blender.
Add a few squeezes of lime juice and salt to taste.
To make the coriander yogurt, while the soup simmers, place the yogurt in a bowl and add the garlic and salt.
Toast the coriander seeds briefly by placing them in a small cast-iron skillet and shaking them over medium heat until they release their aroma.
Transfer the seeds to a mortar and grind them finely.
Add the ground coriander seeds to the yogurt mixture and stir very well with a fork to combine.
Cover well and chill until needed. The yogurt is best within 1 hour of being made.
To serve the soup, ladle it into warm bowls.
Drizzle each serving with 2 to 3 tablespoons coriander yogurt and sprinkle with 1 tablespoon parsley.
Find more beet recipes on Food Republic: