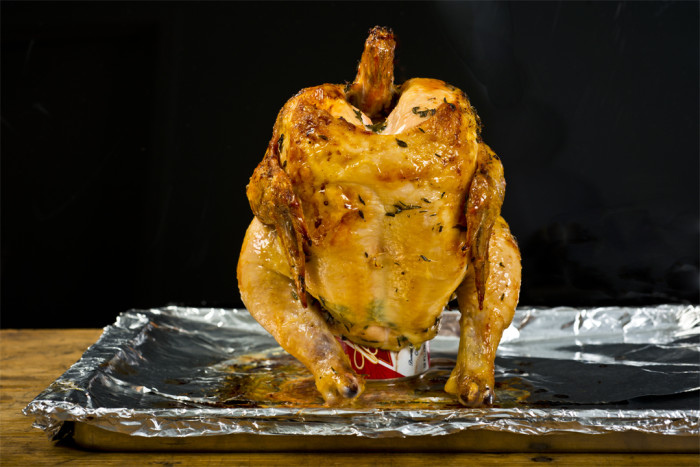 Beer can chicken: bask in its glory. Only a true patriot could take something as simple as French-style roast chicken and turn it into the poster child for why keeping canned beer in the fridge is important. If you've never roasted a chicken before…no, no, we're not going to get mad. That won't roast the chicken.
Let us school you: pop open a can of beer (fancy or otherwise), chug half, plop the chicken butt-down on the remainder and let the oven do the rest. The beer infuses the whole chicken, the aroma infuses the whole kitchen, and you don't have to flip, chop, reduce, sous-vide or risk burning a single thing. This is in fact the easiest chicken recipe we know of. Spend your precious effort on some killer sides, instead.
Or you can continue on the zero-effort trail with our easiest mashed potato recipe, ever. It's also significant that a can of beer fits perfectly in a chicken's, uh…cavity. Chalk that up to evolution.
Ingredients
1

4-pound

chicken, washed and patted dry

4

sprigs

thyme

2

tablespoons

olive oil

1

12-ounce can

beer of your choice
Directions
Line a baking sheet with aluminum foil and preheat oven to 400 degrees.
Strip the leaves off 2 sprigs of thyme.
Rub the chicken with the olive oil, salt and pepper, then rub with the thyme leaves, making sure they stick. Try to get as much of it under the skin as possible.
Drink half the beer, set it on the foil-lined sheet, place the other 2 sprigs of thyme on top of the can and place the chicken squarely on top. It should look awkward.
Carefully transfer the chicken to the oven and roast for an hour, then raise the heat to 425 degrees and cook for another 10 minutes to achieve a crispy exterior.
Remove chicken from oven and allow to sit for 10 minutes before lifting it off the beer can and carving.
Related: The Easiest Way to Carve A Turkey (or Chicken)
---
More easy roast chicken (and friends) on Food Republic: