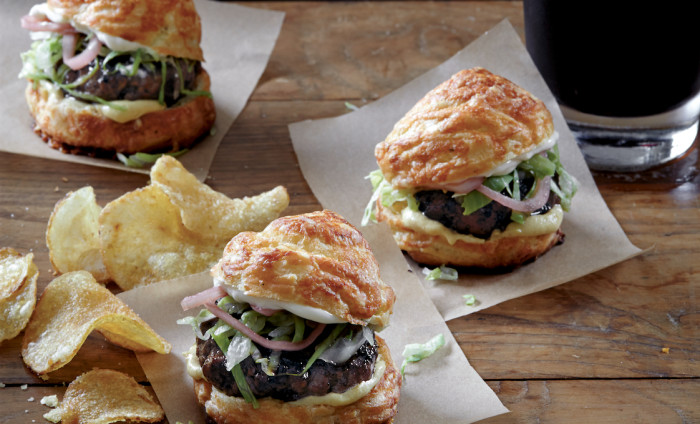 The only thing better than a great beer is eating the perfect food for that particular brew. Enter Beer Bites, a cookbook companion for your craft beer cravings by the dream team of cookbook author Andrea Slonecker and writer/brewer Christian DeBenedetti. Beyond your typical pub grub is enlightened fare for people who love good beer, and beef sliders on cheesy gougères definitely qualify.  
Sure, gougères, the airy, Burgundian cheese puffs typically washed down with wine, are a treat by themselves. And sliders may be the ultimate beer snack, whatever their bun. But for this elegant riff, we signed that pillowy puff to jam with a juicy, mini ground-beef patty. The resulting decadent duet is delicious and a perfect beer-tasting nosh. And for the brew to go with these special sliders, dry Irish stout — the style that Guinness made into a global powerhouse — is just the ticket.
Wait — a stout can be light, crisp, and clean? Yes. A light-bodied beer despite its reputation for caloric heft, every Guinness is a reminder that beer's "heaviness" and its density of color don't always correspond; a 12-ounce/360-milliliter bottle of Guinness draft has only 16 calories more than a can of Bud Light, and fewer than Coors, that old standby "Banquet" beer. Dry Irish stout is palate-cleansing, tasty, not too heavy, not too bitter, not too sweet — an easy match for seared ground beef, conjuring a bit of umami. One might step up to an India black ale (a.k.a. Cascadian dark ale) to emphasize bigger hoppy and roasted flavors, but to our way of thinking, a nice, light-bodied, not-too-filling stout does the trick.
Ingredients
Gougères
1/4

cup

milk, plus more for brushing

1/4

cup

water

3

tablespoons

unsalted butter, cut into cubes

1/4

teaspoon

fine sea salt

pinch of

freshly ground pepper

1/2

cup

all-purpose flour

2

large eggs, at room temperature

3

ounces

gruyere cheese, shredded
Pickled shallots
2

large shallots, thinly sliced

3/4

cup

red wine vinegar

1

teaspoon

sugar

1/2

teaspoon

fine sea salt
Mini beef patties
1 1/2

pounds

ground beef

2

teaspoons

fine sea salt

1

teaspoon

freshly ground pepper

dash of

Worchestershire sauce

2

tablespoons

peanut oil or vegetable oil

Dijon mustard, finely shredded iceberg lettuce, and mayonnaise for serving
Directions
For the gougères
Position racks in the upper and lower thirds of the oven and preheat to 400°F. Lightly butter two rimmed baking sheets.

Combine the milk, water, butter, salt and pepper in a medium saucepan and bring to a boil over medium-high heat. Remove the pan from the heat and stir in the flour using a wooden spoon. Return the pan to the stovetop and turn the heat to medium. Beat the dough vigorously with the spoon until it is smooth and glossy and pulls away from the sides of the pan, about 1 minute. Remove the pan from the heat and beat in one of the eggs. When the first egg is completely incorporated, add the second egg, along with about half of the cheese. Stir vigorously to combine.

Drop tablespoonfuls of the dough onto the pre­pared baking sheets, spacing them at least 1½ inches apart; you should have about 12 mounds. Brush the tops lightly with milk and sprinkle with the remaining cheese. Bake until puffy and golden brown, about 25 minutes, rotating the pans top to bottom and front to back in the oven halfway through.
For the shallots
Put the shal­lots in a small bowl. Add the vinegar, sugar, and salt and stir to mix well. Set aside at room temperature to marinate until pickled, about 30 minutes.
For the patties
Combine the beef, salt, pepper, and Worcestershire sauce in a large bowl and stir gently to combine; do not overmix. Form the mixture into 12 small patties, again being careful not to handle too much. Heat the peanut oil in a large skillet, preferably cast iron, just until it begins to smoke. Add half of the burger patties and cook, turning once, until browned and crusty on both sides, about 2 minutes per side. Transfer to a plate lined with paper towels to drain. Repeat to fry the remaining patties.

Cut the gougères in half horizontally and spread the bottoms with mustard. Position the burger patties over the mustard and top each with a big pinch of lettuce and some pickled shallots. Spread the top halves lightly with mayonnaise and place over the sliders. Serve immediately.