Beer Beef Stew Recipe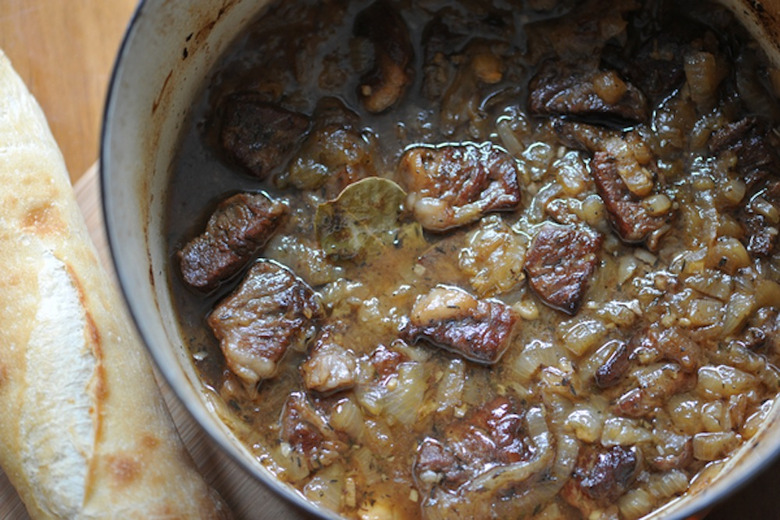 Photo: Josh Shaub
This is one of Phoebe's mother's best stews. She has made it with chicken, but really what makes the whole thing come together in comforting perfection is the beer. Just saying the words beer and beef in one sentence is enough to get most anyone to pay attention. Serve it with Semi Sweet Potato Mash.
Beer Beef Stew Recipe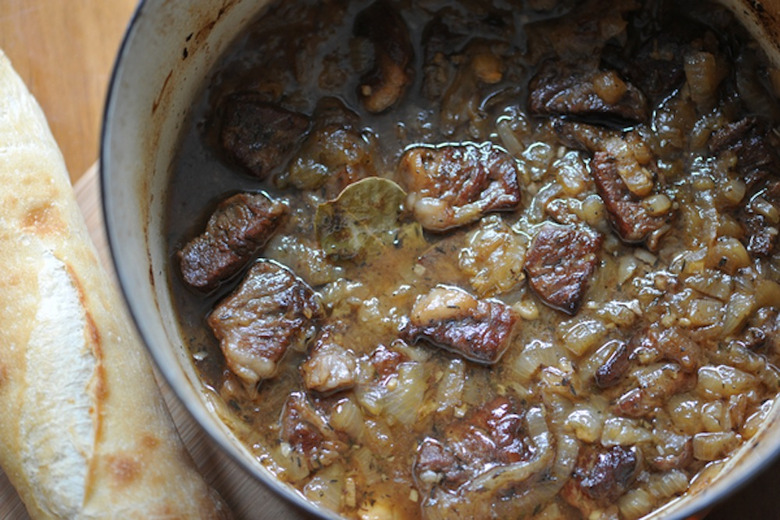 Ingredients
1 pound beef chuck
2 tablespoons olive oil
2 sweet onions
3 cloves garlic
1 1/2 teaspoons dark brown sugar
3 sprigs fresh thyme (or 1/2 teaspoon dried)
1 bay leaf
1 cup beef broth
1 cup dark beer (preferably Belgian ale)
1 tablespoon whole-grain mustard
Directions
Preheat the oven to 325°F.
Pat the beef dry with several cloth or paper towels. Season with salt and pepper.
Coat a large Dutch oven with the olive oil and brown the beef in batches over high heat, making sure not to crowd the pot. Remove from the pot and set aside.
Turn the heat back down to medium, add the onions to the pot, and sauté for about 10 minutes, making sure to scrape up any brown bits leftover from the beef.
Add the garlic and the sugar, season with 2 teaspoons salt and ¼ teaspoons freshly ground pepper, and sauté for an additional two minutes until fragrant.
Turn the heat up to high, return the beef and juices back to the pot along with the thyme and bay leaf. Pour the broth and the beer over the top and bring to a simmer. Stir in the mustard.
Cover and cook in the oven for 2 ½ hours, or until the meat is fully tender. Taste for seasoning, and serve alongside egg noodles or a simple potato mash.