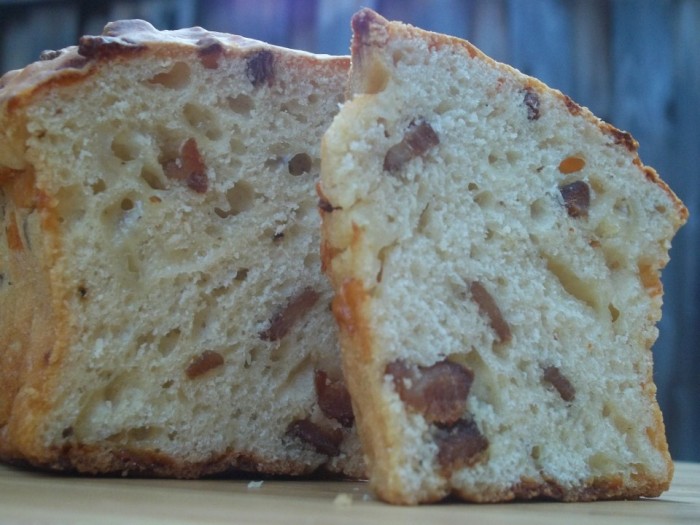 Sometimes gluttony, instead of necessity, is the mother of invention. Case in point, my recipe for beer, bacon and cheddar cheese bread. While I've always loved my recipe for beer bread (I embrace pretty much anything that has alcohol in it), I've always thought it lacked something, but I couldn't put my finger on it. So a few days ago, in a gluttonous stroke of genius, I decided to throw all the bacon and cheddar cheese I had in my fridge into the bread. This quick beer, bacon and cheese bread may be one of easiest recipes I've ever created, but it's easily one of my favorites.
Ingredients
3

cups

unbleached all-purpose flour

1

1/2 tablespoons

baking powder

1/2

teaspoon

salt

3

tablespoons

honey

1

egg

12

ounces

of your favorite beer

3

pieces

thick-cut bacon, diced
Directions
Preheat oven to 375 degrees.
Use a vegetable cooking spray to thoroughly grease a 9x12 loaf pan.
Cook the bacon in a frying pan over medium heat for 3-4 minutes, then drain fat.
Sift the flour, baking powder and salt into a large bowl.
Lightly beat egg with honey, then pour it onto flour mixture and mix with a wooden spoon.
Add beer and mix into the batter, then add bacon and cheddar and fold into batter.
Spread batter evenly into the pan and bake for 50 minutes or until a skewer inserted into the middle of the bread comes out clean.
Allow the bread to cool in the pan for 5 minutes before inverting onto a wire rack.
Cool another 10 minutes before cutting.