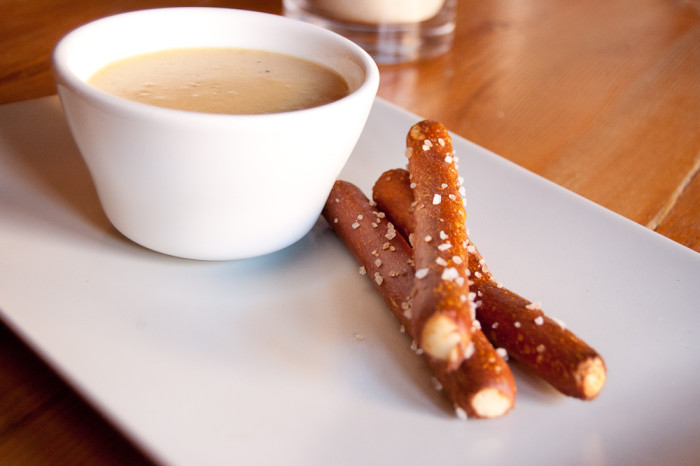 Beer and cheese is a match made in heaven. The sharpness of the Emmenthaler or gruyère pairs very well with the maltiness of Optimator, a doppelbock beer from Germany. You can substitute another dark beer, or for a lighter soup use a pilsner.
This soup is blended until smooth, so you will need either a standard blender or the handheld variety that you can submerge in the soup. This is one of our most popular soups at Brauhaus Schmitz in Philadelphia — when we make it we can barely keep up with the demand. It's great as a starter in the winter or for Sunday brunch.
To make things a little different, take some of the cheese and set aside. Slice rye bread, place on top of the soup and top with cheese. Place under the broiler until crisp and bubbly for a French onion soup effect.
Ingredients
3

bottles

dark beer such as Spaten Optimator (36 oz. total)

1

pound

Emmenthaler or Gruyere cheese, grated

1

small

onion, diced

1

small

leek, cleaned and diced

2

cloves

garlic, crushed

1

small

carrot, peeled and diced

1

rib

celery, diced

2

tablespoons

worcestershire sauce

3

springs

fresh thyme, leaves only

1 1/2

tablespoon

kosher salt

1

teaspoon

ground black pepper

2

slices

rye bread, cut into cubes
Directions
Heat a medium stockpot or Dutch oven on medium heat. Add the butter, onion, garlic, carrot, celery and leeks and cook until the onions are translucent.
Once the vegetables are softened add the rest of the ingredients except for the bread. Simmer the soup for 45 minutes.
Add the cubed rye bread and continue to cook for another 15 minutes. Remove from the heat and let cool slightly.
Pour some of the soup into the blender. Only fill the pitcher up halfway and loosely put the lid on it. If you put too much in or you put the lid on tight the heat will pop the top off and shoot hot soup all over the place. I can't tell you how many times I've seen cooks do this, even after being warned. It's not pretty.
Turn the blender on low and process for two minutes. Do this in as many batches as it takes to puree all of the soup.
Put back into the Dutch oven and heat it up and serve immediately, garnished with pretzel sticks or rye croutons.