Beefalo Milk Stout Beer Chili Recipe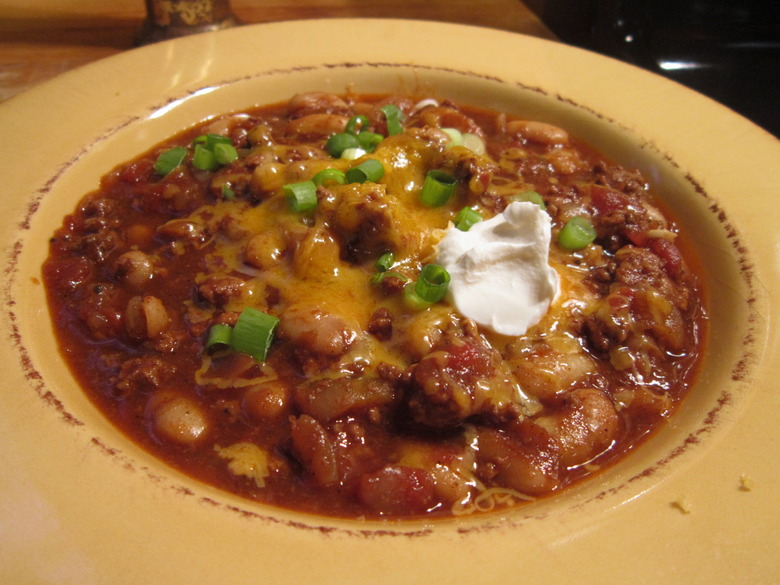 Photo: Kendra Bailey Morris
It's getting colder outside, so it's time to get warm from the inside out. Here's a soul warming dish that will help you shake off those impending shivers and make you blissfully happy.
Combining lean buffalo and ground chuck in a spicy, beany mix accented with an uber-chocolately, roasty milk stout (which contains lactose and sugar derived from actual milk) along with dried New Mexican chiles and cocoa, this is a chili recipe that's simply made to simmer on the stove all day on a Sunday afternoon while you kick back next to a roaring fire.
Beefalo Milk Stout Beer Chili Recipe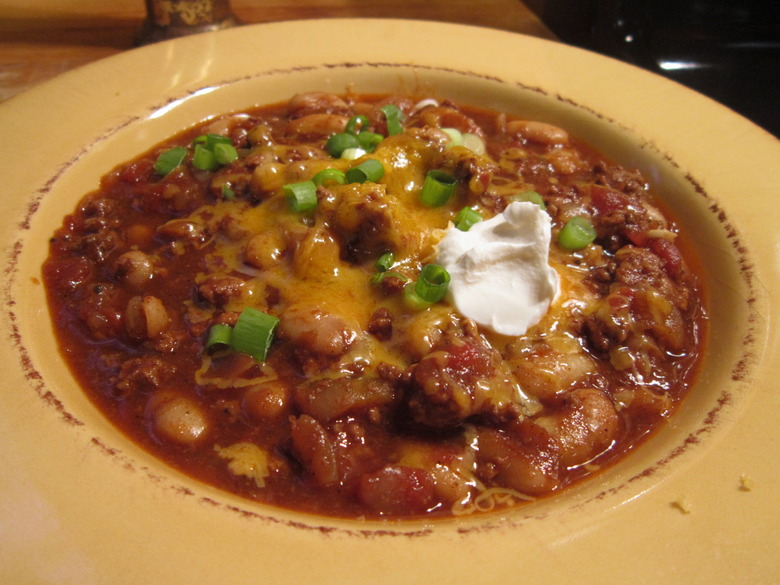 Ingredients
1 pound ground buffalo meat
3/4 pound ground beef chuck
1 large onion
3 cloves garlic
1 14.5- oz can of tomato sauce
1 10-oz can diced tomatoes with green chilies + juice
1 8-oz can tomato sauce
1 New Mexican dried red chile pod
2 tablespoons chili powder
1 teaspoon Mexican oregano
1 teaspoon cumin
1 teaspoon brown sugar
1/2 teaspoon cinnamon
1/2 teaspoon all spice
1 bay leaf
1 12-oz bottle Duck-Rabbit Milk Stout
2 heaped tablespoons tomato paste
2 cans white beans (or pintos or black beans)
Salt and pepper
queso fresco or cheddar cheese
green onion
sour cream
tortilla chips or cornbread
Directions
Preheat a large pot or Dutch oven to medium-high.
Crumble the beef and buffalo into the pan and cook until well-browned.
Remove the meat and place in a bowl then drain off half the fat and discard.
Saute onion and garlic in remaining fat until translucent.
Return the meat to the pot and increase heat to medium-high.
Add the canned tomatoes, tomatoes with chilies and tomato sauce and bring up to a gentle boil while scraping all the browned bits off the bottom of the pan.
Add the chile puree and remaining spices. Stir well and bring up to a boil for one more minute.
Slowly pour in the bottle of stout and bring the pot back up to a boil for 5 minutes uncovered.
Add tomato paste and whisk in well.
Reduce heat to low and cover and simmer for one hour. Skim off any surface fat during cooking.
Add the beans, salt and pepper. Simmer covered for another hour on low, checking for seasonings as you go.
Serve the chili topped with your choice of garnishes alongside a pint of your favorite stout.