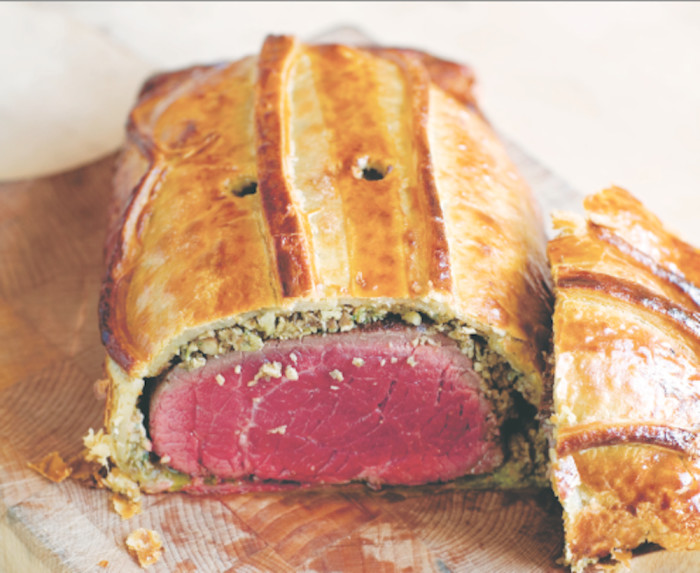 Filet of beef "en croute," better known as Beef Wellington, is a classic holiday dish. Since filet or tenderloin is generally a leaner cut than, say, a ribeye or a Porterhouse, it makes perfect sense to wrap it in something almost completely composed of butter: puff pastry, with a layer of sauteed mushrooms in between to keep things moist and flavorful.
This recipe hails from France, where the cows are served still mooing. To make sure your roast is cooked to your liking, insert a meat thermometer into the thickest point. 120 degrees is rare, 125 is medium-rare and anything above that is beyond our control.
Ingredients
2 1/2

pounds

beef tenderloin

2

tablespoons

olive oil

3

tablespoons

butter

1 1/2

cups

button mushrooms, quartered

1

cup

porcini mushrooms, quartered

5

shallots

peeled and finely chopped

1

small bunch

parsley

2

slices

sandwich bread, torn into pieces

puff pastry

1

egg

yolk
Directions
Preheat the oven to 325°F.
Heat the olive oil in a flameproof casserole dish. Add the beef fillet and brown on all sides over high heat for 7 minutes, then remove from the dish and allow the beef to cool on a rack. Season with salt and pepper.
Heat the butter in a frying pan and sauté the mushrooms and shallot over medium heat, until all the water has been released.
Put the mushroom and shallot mixture with the parsley and bread into a food processor, and process to a fine stuffing. Season with salt and pepper.
Spread the mushroom stuffing along the length of the filet.
Roll out the puff pastry to a length that will completely wrap around the beef filet.
Brush the edges of the pastry with egg yolk, then lay the beef filet on the pastry and wrap it up tightly like a parcel, pressing the seams together firmly and tucking the ends under.
Put the parcel seam-side down into the casserole dish, then brush all over with the remaining egg yolk.
Make a couple of vents in the pastry to allow steam to escape, then bake in the oven for 20 minutes, allow to rest, then slice and serve immediately.