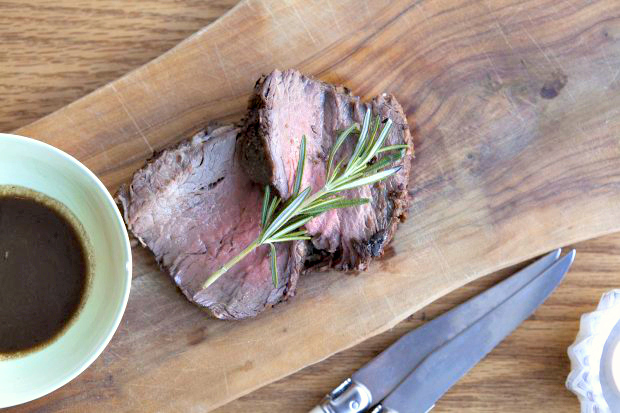 Beef tenderloin is a great dish to fall back on when you're looking to feed a crowd and don't have much time. For this recipe, we threw thyme and rosemary in the grinder with dried porcini mushroom to make a dry rub that creates a crispy crust when the meat was cooked. Although a sauce is not necessary, use a porcini and red wine reduction to tie it all together.
Ingredients
1

(4-pound)

beef tenderloin

4

tablespoons

olive oil

2

ounces

dried porcini mushrooms

1

tablespoon

fresh rosemary, chopped

1

tablespoon

fresh thyme, chopped

kosher salt

2

teaspoons

whole peppercorns
For the sauce
1/2

ounce

dried porcini mushrooms

4

tablespoons

butter

2

cups

red wine

2

sprigs

rosemary

5

sprigs

thyme
Directions
Season the tenderloin all over with salt and refrigerate overnight.
When ready to cook, remove from fridge and preheat oven to 400 degrees F.
Combine mushrooms, rosemary, thyme and peppercorns in grinder to make a rub. Coat the beef with olive oil, then coat all over with rub.
Heat 1 tablespoon olive oil in a wide skillet over medium-high heat until hot. Add beef and sear on all sides, about 5 minutes.
Transfer to a roasting pan. Roast in oven until thermometer reads 125F, about 30 minutes, for medium-rare.
Remove from oven and wrap with foil and let stand for 10 minutes.
Rehydrate the porcini in water by soaking the dried mushrooms in one cup of water. Remove from water and strain through a fine sieve. Reserve strained liquid. Coarsely chop porcini.
Heat a tablespoon butter in the same skillet used for searing the beef. When it's hot, add the shallots and chopped porcini and sauté over medium heat for five minutes.
Add the wine and scrape up the brown bits stuck to the the pan. Add mushroom liquid, rosemary and thyme. Bring to a boil, then reduce to a simmer and cook until sauce is reduced by about half to approximately 1 1/2 cups.
Add salt and taste for seasoning. Strain through a fine sieve into a small saucepan.
Heat sauce over medium heat, whisk in the butter.
Slice the tenderloin and serve with the sauce.
This post is brought to you by our friends at Pure Leaf