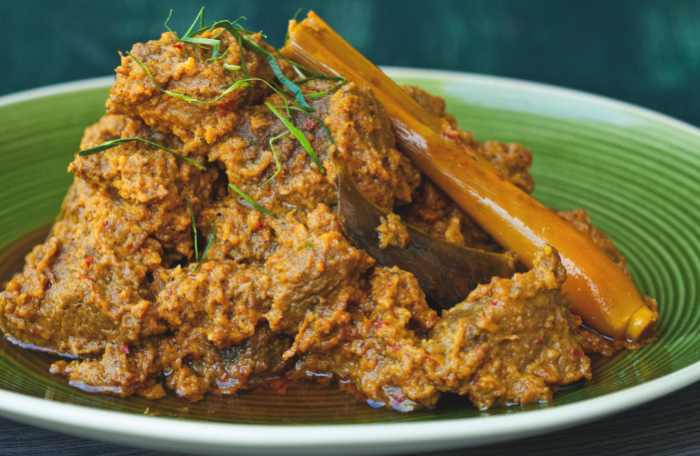 Malaysian-born MasterChef star Billy Law's cookbook Have You Eaten? is a masterful collection of rich fusion cuisine and classics alike. His recipe for beef rendang will prove that you don't have to travel through Malaysia to cook like a pro.
If you love curries but can't handle the spiciness, then this is the curry for you. Rendang is a dry meat curry that originates from Indonesia, but is equally popular in Malaysia, Singapore and other Southeast Asian countries. A good rendang should be cooked slowly, the meat gently simmering in the rich spice paste and coconut milk until almost all the liquid has evaporated and the beef is meltingly tender.
Ingredients
1

tablespoon

coriander seeds

1

teaspoon

fennel seeds

1

teaspoon

black peppercorns

3

tablespoons

vegetable oil

3

pounds, 5 ounces

topside or chuck steak, cut into 1 1/4 inch cubes

3

lemongrass

stalks, white part only, bruised with a pestle

3

kaffir lime leaves, plus 1 extra, rolled and thinly sliced

2 1/4

cups

tinned coconut milk

1

cup

water

1

tablespoon

salt, or to taste

2

tablespoons

sugar, or to taste

1

cup

desiccated coconut
Spice paste
1/2

ounce (about 20)

dried red chillies, soaked in hot water for 30 minutes until softened, then drained

4 1/4

ounces (about 12 small)

French shallots, peeled

1 1/2

inch piece

galangal, peeled

1 1/2

inch piece

ginger, peeled

3/4

inch piece

turmeric, peeled, or 1 tablespoon ground tumeric
Directions
Toast the coriander seeds, fennel seeds and black peppercorns in a dry frying pan over low heat. Once the fennel seeds start making popping sounds, transfer the toasted spices into a mortar and pestle or a spice grinder, and grind into a fine powder. Set aside.
To make the spice paste, put all the ingredients into a food processor and process into a fine paste.
Heat the vegetable oil in large saucepan over medium–low heat, add the spice paste and fry gently for 8–10 minutes until fragrant and darker red in color. Add the beef, lemongrass, 3 whole kaffir lime leaves and ground spices, stirring to mix well. Cook for about 3 minutes until the beef is lightly cooked, then add the coconut milk and water, stir to combine, then turn the heat down to a simmer. Cook, uncovered, for 1 1/2 hours until the meat is tender and the sauce is thick. Season with salt and sugar, to taste.
Meanwhile, heat a dry frying pan over low heat. Add the desiccated coconut and toast until golden, stirring constantly so the coconut doesn't burn (take care it doesn't burn or it will have an unpleasant flavor). Set aside to cool, then put in a food processor and pulse a few times until the coconut becomes fine crumbs.
Add the toasted coconut to the beef, stirring frequently over low heat for about 15 minutes, or until the coconut releases its oil and is absorbed by the meat. Garnish with the sliced kaffir lime leaf and serve with steamed rice.
Try out these Asian recipes on Food Republic: