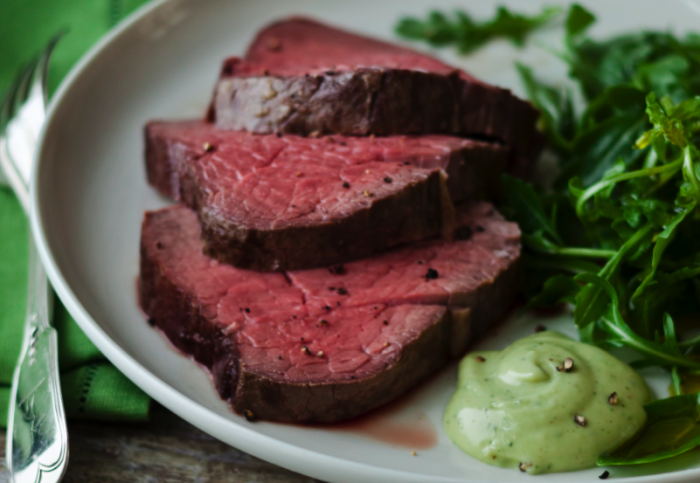 Nobody does simple, classy food quite like Ina Garten, the Barefoot Contessa. While a good amount of her recipes are more or less foolproof — a trait we really admire in a cookbook author and TV chef — her most recent book, Barefoot Contessa Foolproof, has us convinced we too can lay out a Hamptons-style spread. First up, a tender fillet of beef with homemade basil mayo.
Ingredients
1

whole fillet

beef tenderloin, trimmed and tied (4 1/2 pounds)

3

tablespoons

good olive oil

4

teaspoons

kosher salt

2

teaspoons

coarsely ground black pepper

10-15

branches

fresh tarragon

basil parmesan mayonnaise (see below), for serving
Basil parmesan mayonnaise
2

extra large

egg yolks, at room temperature

3

tablespoons

freshly squeezed lemon juice

1/2

cup

freshly grated Parmesan cheese

1

tablespoon

Dijon mustard

1/2

cup

chopped fresh basil leaves, lightly packed

1/2

teaspoon

minced garlic

Kosher salt and freshly ground black pepper

1

cup

vegetable oil, at room temperature

1/2

cup

good olive oil, at room temperature
Directions
For the basil mayonnaise:
Place the egg yolks, lemon juice, Parmesan, mustard, basil, garlic, 1 tablespoon salt and 1 teaspoon pepper in a food processor fitted with the steel blade.
Process for 20 seconds, until smooth. Combine the vegetable oil and olive oil in a 2-cup liquid measuring cup. With the processor running, slowly pour the oil mixture through the feed tube to make a thick emulsion.
Taste for seasonings — the mayonnaise is a sauce so it should be highly seasoned. Store in the refrigerator until ready to use; it will keep for up to a week.
For the beef fillet:
Preheat the oven to 275 degrees. Use an oven thermometer to be sure your oven temperature is accurate!
Place the fillet on a sheet pan and pat it dry with paper towels. Brush the filet all over with the oil, reserving about half a tablespoon.
Sprinkle it all over with the salt and pepper (it will seem like a lot but believe me, it makes a difference). Place the tarragon branches around the beef, tying them in 4 or 5 places with kitchen string to keep them in place, and then brush the tarragon with the reserved oil.
Roast the fillet of beef for 1 1/4 to 1 1/2 hours, until the temperature registers 125 degrees in the center for rare and 135 degrees for medium rare. I place the thermometer horizontally through the end of the beef. Cover the filet with aluminum foil and allow to rest for 20 minutes.
Slice thickly and serve warm or at room temperature with basil parmesan mayonnaise.
Check out these other beef recipes on Food Republic: