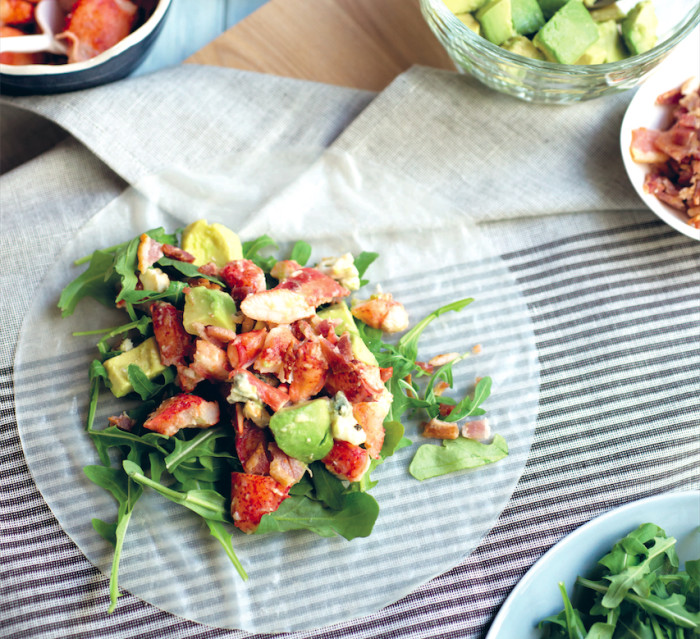 There is one gluten-free baking bible out there: Against the Grain. You'll never have to shell out eight bucks for a terrible loaf of frozen bread ever again. Bid farewell to the rubbery, flavorless, additive-filled gluten-free goods of yesteryear and embrace your diet with delicious, wholesome, home-baked favorites. These lobster rolls require no baking and are fairly simple to prepare — and they can accompany you just about anywhere.
The night before my son Marty's college graduation, my family booked three hotel rooms in central New York. To accommodate a family of diverse dietary challenges, my sister, Lynn, planned a literal movable feast (apologies to Hemingway). In one room we had wine and appetizers, we moved on for the main course, and in the last room, we had dessert and gifts. The challenge was to make a fresh-tasting feast that required assembling rather than cooking. That evening, we gave new meaning to lobster rolls by using rice-paper rounds, which are "cooked" by using nothing more than a bowl of hot water. While one of us dunked and softened the stretchy rice rounds, another stuffed the wraps with the lobster filling, sprinkled them with fresh arugula leaves, and folded them tightly. It was a truly movable feast.
This recipe might just as well be subtitled "Gourmet Travel Food." It was inspired by Ina Garten's Lobster Cobb Salad Rolls and was adapted to be both gluten-free and hotel-room-friendly. Typically, I don't use prepackaged ingredients, but in this case rice-paper wraps (also known as spring-roll wraps) can't be beat.
Ingredients
2

pounds

cooked lobster meat, cut into 3/4-inch cubes

1/2

pound

bacon, cooked and crumbled

6

ounces

gorgonzola cheese, crumbled

1

avocado, cut into 1/2- to 3/4-inch cubes

1/4

cup

olive oil

2

tablespoons

Dijon mustard

1

teaspoon

salt

1/2

teaspoon

freshly ground black pepper

2

packages

rice-paper wraps (8 rounds per package)

3

cups

fresh baby arugula
Directions
In a large salad bowl, toss together the lobster, bacon, Gorgonzola, and avocado.
In a screw-top jar, combine the lemon juice, olive oil, mustard, salt, and pepper and shake until the dressing comes together. Pour the dressing over the lobster mixture and toss until the salad is well mixed.
To prepare the rice-paper wraps, fill a shallow bowl with hot water. One at a time, using two hands, dip the wrappers into the hot water until they are just moistened. Place them on a clean kitchen (or hotel) towel to finish softening.
Spoon a strip of lobster salad about 3 inches long down the center of each rice-paper wrap, and cover with a small handful of arugula. Roll the rice wrapper like a burrito, folding in both ends and then rolling the wrap around the filling. The rice paper (still slightly moist) will naturally stick together.
Want more "gourmet to go"? Here are some more roll recipes from Food Republic: