BBQ Pork Ribs Recipe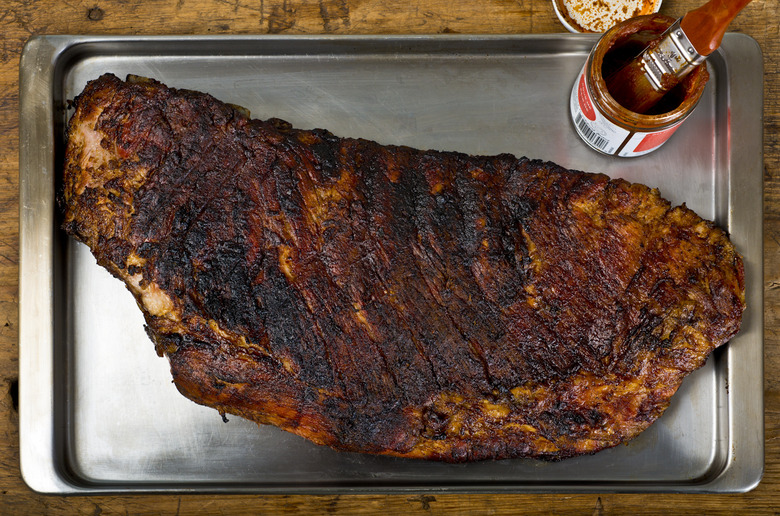 Photo: Mark Shaw
Learning how to make BBQ pork ribs on the grill instantly makes you the person who knows how to make BBQ ribs on the grill. This was far from my first time, but it was definitely my first time making a full 8-pound rack of them.
This being a truly gigantic rack of ribs, and me being a relatively small chick, I will admit to needing some help flipping the behemoth on the grill. Knowing the rest of the edit team, there's a video somewhere of my sad attempts to flip them solo. (There's likely a scene where I'm yelling "guys, flare-up, flare-up!" to no avail.) That's why I'm in the test kitchen and not at the BBQ pit. But I'm sure you'll be fine — and there's no shame in asking for assistance when making one of the most hardcore deliciously grilled meats out there, right?
As for the sauce, pick your favorite. There's a whole world of barbecue sauce out there just waiting to be brushed onto ribs. A whole world...
BBQ Pork Ribs Recipe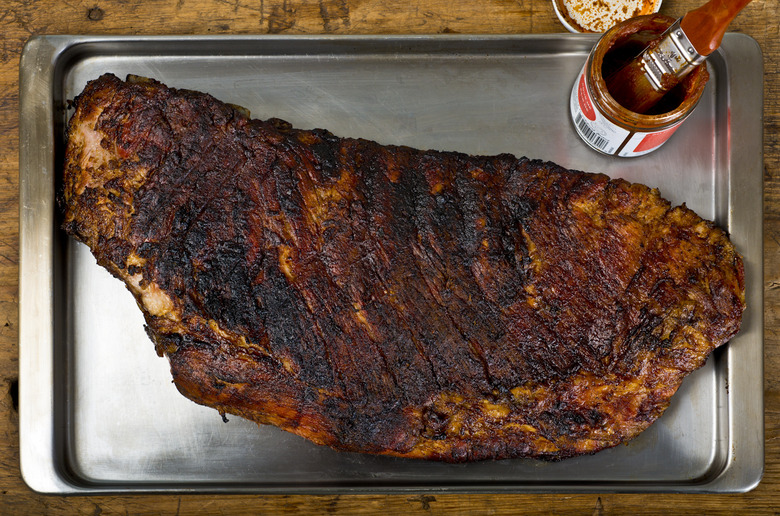 Ingredients
1 full rack pork ribs
2 tablespoons olive oil
Salt and pepper
2 cups barbecue sauce
Directions
Preheat oven to 325 degrees.
Place ribs on a large baking sheet, rub with olive oil and season with salt and pepper, or a rub (if using).
Cook ribs in the oven for about 2 1/2 hours, or until meat inside is no longer pink.
Preheat grill to high and transfer ribs to grill.
Cook for 10-15 minutes on each side with the lid closed for maximum smokiness. Flip halfway through cooking each side if necessary to prevent too much charring.
Brush a thick layer of sauce on the top side, cook for 5 minutes, then flip brush a layer on the other side and cook for another 5 minutes.
Remove ribs from grill and transfer to a cutting board. Brush on a final layer of sauce and allow to rest for 10 minutes.
Slice into individual ribs and serve.