Faster Pasta: Make This Bavette Al Branzino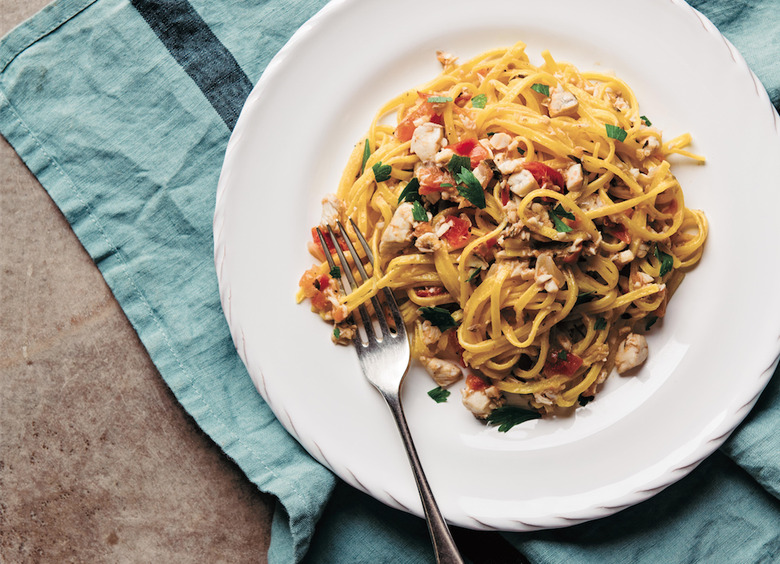 We may receive a commission on purchases made from links.
Savor the Silver Coast of Tuscany with Acquacotta, the new cookbook from food writer and blogger Emiko Davies. This is one culinary region where tradition reigns supreme — and believe us, it ain't broke and don't need fixing. Learn the techniques and recipes from this magnificent food culture and use them to freshen up your own repertoire. This bavette al branzino will become a fast, healthy weeknight staple. 
Sea bass, or branzino or spigola in Italian, is found on menus everywhere around Argentario and Orbetello – the main reason is the lagoon situated between these two places, which is the source of Italy's most famous and best-regarded farmed sea bass. The lagoon is also the source of sea bream, eels and grey mullet, which are used in a number of traditional dishes.
Bavette are a typical Ligurian pasta shape – flat, narrow but thick. You can use any pasta with this, but it is nice with something long and thin like square-cut or regular spaghetti or tagliolini.
Note: If buying a whole fish to fillet yourself, you will need double the weight of the fillets. Save the heads and bones for making fish stock.
Variations: This dish is often made using whole fish, cooked directly in the pan with the onion, garlic, parsley and white wine. It is then removed, so the bones, head and tail can be discarded, and the meat picked over before being returned to the pan. It's a nice way of making a fish ragu, as using the entire fish adds good flavor and you don't need the stock if you do it this way. Using fillets makes this easy (and a little less messy), and if you have filleted the fish yourself, you can use the head and bones for a homemade fish stock. Red mullet, tub gurnard or sea bream are also good prepared this way.
Faster Pasta: Make This Bavette Al Branzino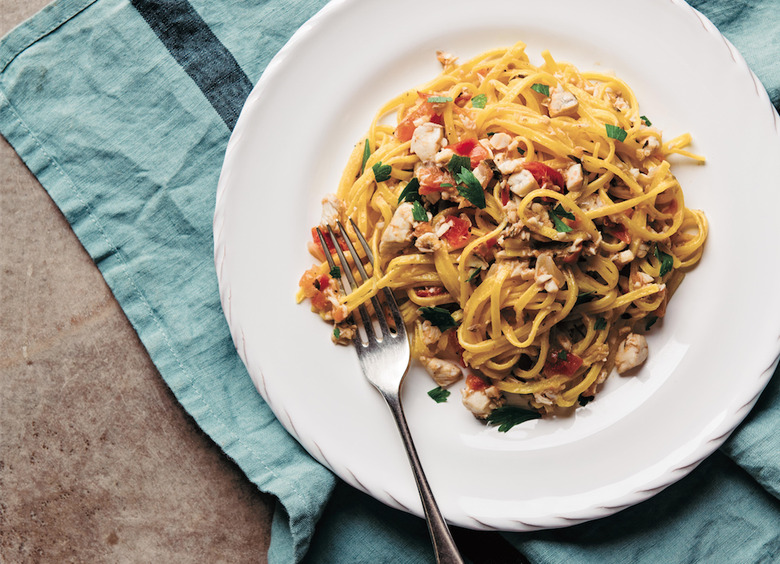 Ingredients
14 ounce sea bass fillets
2 tablespoons extra-virgin olive oil
1 small brown (yellow) onion
1 garlic clove
1 large handful flat-leaf parsley
1/2 cup dry white wine
1 tomato (or handful cherry tomatoes)
1 cup fish stock
11 ounces dried bavette or 14 ounces fresh bavette (or spaghetti or tagliolini)
Directions
Cut the fish fillets into 1/2-inch cubes. Set aside.
Heat the olive oil in a frying pan over low heat and add the onion, garlic and parsley stalks. Season with a pinch of salt and cook gently for about 10-15 minutes, until the onion 'sweats' and is softened but not colored (add a splash of water if needed).
Put a large pot of well-salted water on to boil for the pasta. Pour the white wine over the onion mixture and turn the heat up to medium. Let it simmer for 2 minutes, then add the tomato and stock and cook for a further 10 minutes. Add the diced fish and continue cooking for 5 more minutes. Remove from the heat.
When the water is boiling, add the pasta and cook until al dente (refer to the packaging for the cooking time). Drain, reserving about two ounces of the cooking water if needed. Add the pasta and the chopped parsley leaves to the fish ragu, and toss to combine. If you need some extra liquid to bring it all together, add some of the reserved cooking water. Serve immediately.