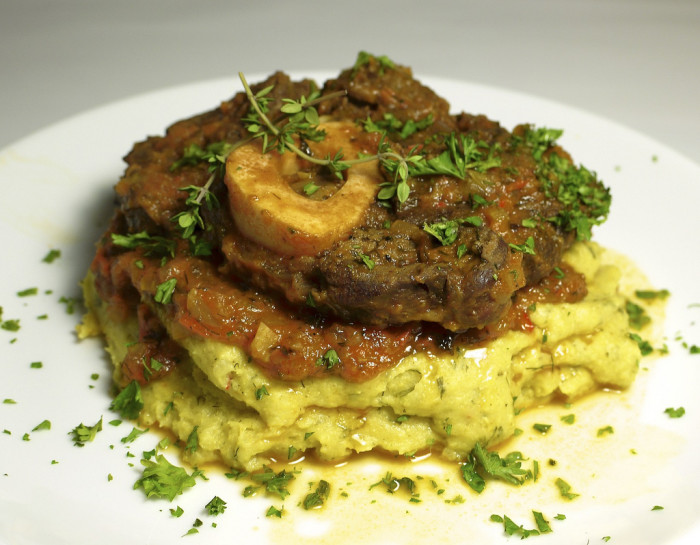 The end result of this basic osso buco recipe is pure meaty awesomeness, but it does take awhile to get there. The veal shank starts out as tough as a Converse hi-top; you've gotta braise it nice and slow to get it to that melt-in-your-mouth texture. Plate it on top of a perfectly made risotto, serve it with a full-bodied Italian red to pay homage to osso buco's roots (it supposedly originated in Milan) and pat yourself on the back for a meal well made.
Ingredients
4

veal shanks, patted dry

all-purpose flour, for dredging

Salt and pepper, for seasoning

1

onion, chopped

2

small

carrots, peeled and chopped

2

stalks

celery, chopped

2

bay leaves

1

tablespoon

tomato paste

1

cup

red wine, dry

3

sprigs

thyme

3

cups

chicken or beef stock

1/4

cup

parsley, chopped, for garnish

vegetable oil for cooking

lemon zest, for garnish
Directions
Season each shank with salt and freshly ground pepper and dredge in flour, shaking off the excess.
In a large pot with a lid that fits, heat vegetable oil until hot. Add the veal shanks and brown on all sides, about 3 minutes per side. Remove browned shanks and reserve.
In the same pot, add the onion, carrot and celery. Saute until soft and translucent, about 5 to 8 minutes. Add the tomato paste and mix well. Cook for about a minute more.
Return the shanks to the pan and add the wine and reduce liquid by half, about 5 minutes. Add the thyme and 2 cups of the broth. Bring to a boil. Reduce heat to low, cover pan and simmer for about 1 1/2 hours or until the meat is falling off the bone.
Check every 15 minutes, turning shanks and adding more chicken stock as necessary. The level of cooking liquid should always be about 3/4 the way up the meat.
Remove the shanks carefully from the pot as the meat could slip right off the bone. Serve with juices and sprinkle with parsley and lemon zest.