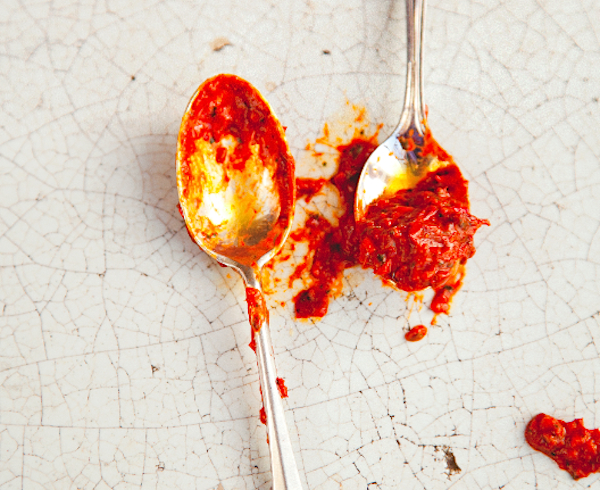 Harissa is the classic Moroccan chili sauce. I make it in small amounts because you need only a little at a time, but you can double the quantities if you think you'll use it within four months. Some are made with roasted peppers and tomatoes, but I like a pure chile flavor. There are even versions with dried rose petals, but I honestly can't detect them, they have too many chiles to fight with.
Ingredients
2 1/2

teaspoons

caraway seeds, undefined

2 1/2

teaspoons

coriander seeds

2 1/2

teaspoons

cumin seeds

5

fresh red chilies, halved and seeded

5

dried guajillo chilies, soaked in warm water, drained and seeded (reserve the liquid)

8

garlic cloves

leaves from a small bunch of cilantro

juice of

one lemon

1/2

cup

olive oil, plus more for storing

3/4

teaspoon

salt, or to taste
Directions
Toast the caraway, coriander and cumin seeds in a dry saucepan. Heat them for three to four minutes, until they start to release their fragrance. Pound in a mortar and pestle.
Put the spices with all the other ingredients into a food processor and puree. You should get a thick, but not solid, paste. Add a little of the chile soaking liquid to help you get the right texture.
Put into a small sterilized jar and pour a film of oil on top. Store in the refrigerator — make sure it is always covered by a layer of oil — and use within four months.
More Cooler Condiments recipes on Food Republic: