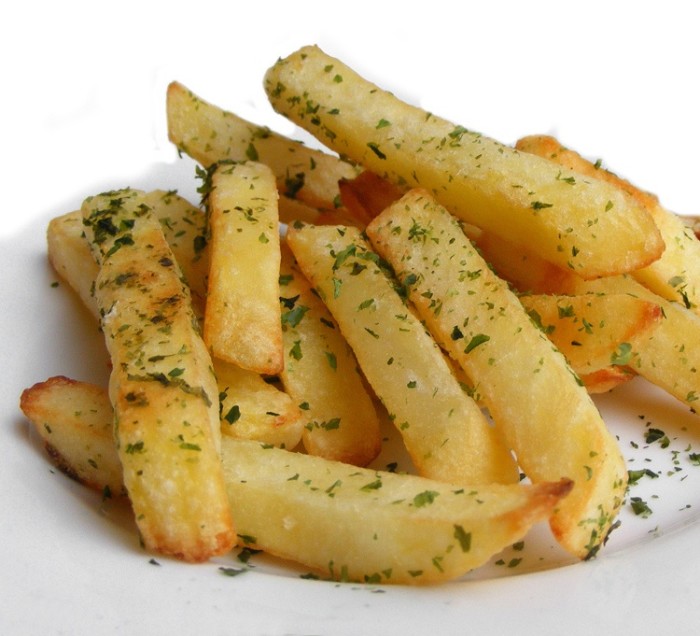 Even if you happen to own a Fry Daddy, making French fries is a fairly messy process. Oil may splatter, plus you have to dispose of the oil at some point. Some people will put the effort in to get crisp, delicious fries in the comfort of their own home, some won't.
Either way, you can get pretty damn good French fries without frying them (which we suppose technically aren't fries, but whatever). And the bonus of baking the, ahem, fries, is that this side to your burger or steak becomes a bit healthier. Sure, it's a starch and it's covered in salt, but at least it's not fried! Right?
A few keys to getting a close replicate to real fries: Be sure your oven is hot, slice the potatoes thin enough that they'll cook through, make sure all sides are coated in oil, and keep the salt on standby. Serve with mayo, ketchup, or however you like 'em.
Ingredients
3

large

baking potatoes, peeled, rinsed, and sliced into french fry shaped pieces

2

to 3 tablespoons

vegetable oil, for tossing

Salt and pepper, for sprinkling

1

tablespoon

parsley, chopped fresh
Directions
Preheat oven to 425 degrees.
In a large bowl toss the potatoes and the oil until evenly coated. Spread on one to two baking sheets so the fries are in a single layer.
Place in the oven and turn after 15 minutes. Cook until the fries become golden brown about another 10 to 15 minutes depending on how thick you sliced them.
Remove and sprinkle with salt, pepper and fresh chopped parsley.