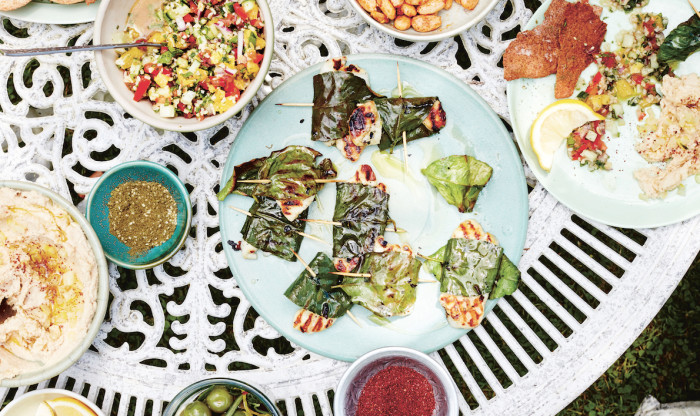 If your home-cooked meals aren't complete without a squeeze of citrus or dash of zest, there's a new cookbook by British recipe developer and food writer Catherine Phipps. Bring a little zeal to every meal of the day with Citrus, starting with this smoky barbecued halloumi in lemon leaves.
It's quite incredible how well the lemon leaves scent the halloumi cheese when cooked according to this recipe. If you don't have citrus leaves, a good option is to add lemon zest to the ouzo and oregano and wrap the cheese in large, freshly picked bay leaves.
Ingredients
1

9-ounce block

halloumi, cut into 16 pieces

1

tablespoon

ouzo

1

teaspoon

dried oregano

16

lemon leaves (or bay)

olive oil, plus extra to serve

lemon wedges, to serve
Directions
For the halloumi
Heat a griddle pan until too hot to hold your hand near, or get a barbecue ready. Toss the halloumi in the ouzo and oregano. Brush the lemon (or bay) leaves lightly with olive oil then wrap each piece of halloumi in a leaf, securing with a toothpick.

Put the halloumi on the griddle or barbecue and cook for 2 minutes on each side until the leaves are starting to burn and the halloumi has softened.

Unwrap, leaving the halloumi on the leaves, and drizzle with a little more olive oil. Serve with the lemon wedges.