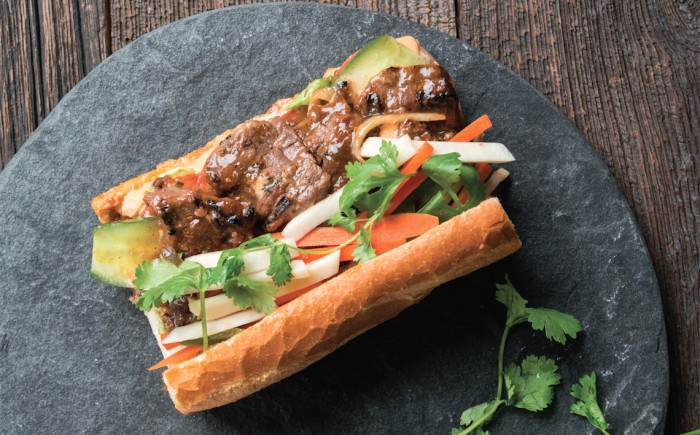 Say it with us: "An!" It means "eat" in Vietnamese. Follow Helene An, executive chef at Beverly Hills hot spot House of An, as she recounts the family history that brought her to culinary fame in Los Angeles, and the recipes she and her daughter cook for their never-ending line of hungry fans. 

Infinitely customizable, the bánh mì sandwich has just one rule: The bread shouldn't overshadow the flavors of its fillings. Generally, in Vietnam, bánh mì sandwiches are made with inexpensive cuts of pork, but here we've made it our own with thin slices of grilled steak marinated in tropical fruits, lemongrass, and our special satay sauce. My mother often uses pineapple and kiwi in her meat marinade. Not only are they natural tenderizers, but they also add some sweetness that is great for grilled meat. In fact, the flank steak here is so flavorful and tender that it can also be enjoyed on its own for a low-carb meal.
Ingredients
Steak
1/2

cup

Spicy Satay Sauce for Grilled Meat

2

tablespoons

pineapple juice

1

ounce

chopped fresh pineapple, or 1 canned pineapple ring, chopped

1/8

fresh kiwi, peeled and chopped

1

tablespoon

chopped fresh lemongrass, tender inner white bulb only

1

pound

flank steak, cut into 1/4-inch-thick slices
Aioli
1

cup

mayonnaise

2

tablespoons

Sriracha sauce

2

tablespoons

ponzu (citrus-seasoned soy sauce)

1

teaspoon

chili oil
Sandwiches
2

soft baguettes, split lengthwise and then cut into thirds

butter lettuce

Pickled carrots

pickled daikon

12

jalapeños, julienned into long, thin strips (optional)

12

sprigs

fresh cilantro

Maggi seasoning sauce

freshly ground black pepper

sea salt
Spicy Satay Sauce for Grilled Meat (makes about 5 cups)
2 to 3

fresh lemongrass stalks

5

tablespoons

canola oil

2

pounds

white onions, chopped

14

ounces

shallots, chopped

1/4

cup

chopped fresh ginger

1/4

cup

chili paste

2

(12-ounce) cans

coconut-flavored soda

1/2

cup

fish sauce

1/2

cup

light soy sauce

1/2

cup

pineapple juice

1 1/2

cups

lightly packed brown sugar

1/2

cup

sesame oil

1

pear, sliced
Pickling brine (makes about 3 quarts)
1

quart

white vinegar

4 1/2

cups

sugar

1

teaspoon

sea salt
Pickled carrots (makes about 5 pints)
5

pounds

carrots, peeled

5

tablespoons

sugar
Materials
Canning jars or tempered-glass containers with lids, sanitized
Directions
For the pickling brine
In a g­lass mixing­ bowl that can hold at least 4 quarts of liquid, mix the vineg­ar with 2 quarts of warm water. Add the sug­ar and salt and stir until they dissolve.

NOTE: Ta­p wa­ter is fine to use unless you ha­ve h­ard wa­ter. If so, use purified w­ater inste­ad.

NOTE: Be sure to use sea­ sa­lt without ­any ­additives, ­as certa­in chemica­ls c­an ma­ke the brine cloudy.
For the pickled carrots
Cut the carrots into 1/8-inch-thick rounds. Place the carrot slices in a lar­ge bowl.

Sprinkle the su­gar on top of the carrots, tossing­ well to coat. Set the bowl aside on the counter and let the carrots marinate for 2 hours.

Drain the carrots and discard any accumulated juices.

Divide the marinated carrots among­ g­lass jars or containers. Pour the pickling brine into the jars, covering­ the carrots completely but stopping­ within ½ inch of the top of the jars. Place the lids on the jars or containers and refri­gerate for at least 24 hours before serving­. Pickled carrots can be kept in the refrig­erator for up to 1 month.

VARIATION: For Pickled Daikon Radish: Replace carrots with daikon radish in steps above; however, make sure that the daikon is thoroughly dried and all water is squeezed out before placing in the brine. Pickled daikon keeps crisp for just 5 days.
For the satay sauce
Separate the tender inner white lemongrass bulbs from the tough outer stalks, but save both pieces. Cut the white bulbs into thin slices, and set aside. Crush the outer lemongrass stalks to release the flavor, and then tie the stalks into a bunch, and set aside.

Heat the canola oil in a medium pot over medium heat. Add the lemongrass bulbs, the bundle of lemongrass stalks, the onions, shallots, ginger, and chili paste. Sauté until the mixture is very fragrant. Add the coconut soda. Stir in the fish sauce, soy sauce, pineapple juice, and brown sugar.

Reduce the heat to low. Add the pear slices, sesame oil, and pineapple pieces. Add the black pepper and cook for 15 minutes. The sauce can be kept in a covered container in the refrigerator for up to 2 weeks.
For the sandwiches
In a medium bowl, mix the satay sauce with the pineapple juice. Stir in the pineapple, kiwi, and lemongrass. Put the steak into a resealable plastic bag.

Add the marinade and seal. Turn the steak to coat it in the marinade and refrigerate for 2 hours.

TO MAKE THE AIOLI: In a medium bowl, mix together the mayonnaise, sriracha, ponzu, and chili oil. Set aside.

Preheat an outdoor grill or grill pan and cook the marinated flank steak for 3 minutes per side for medium doneness.

Assemble each sandwich as follows: Spread aioli on the baguette, then layer with butter lettuce, 2 slices of flank steak, pickled carrots, pickled daikon, 3 jalapeño strips (if using), 2 sprigs of cilantro, and Maggi, salt, and pepper as desired. Serve.