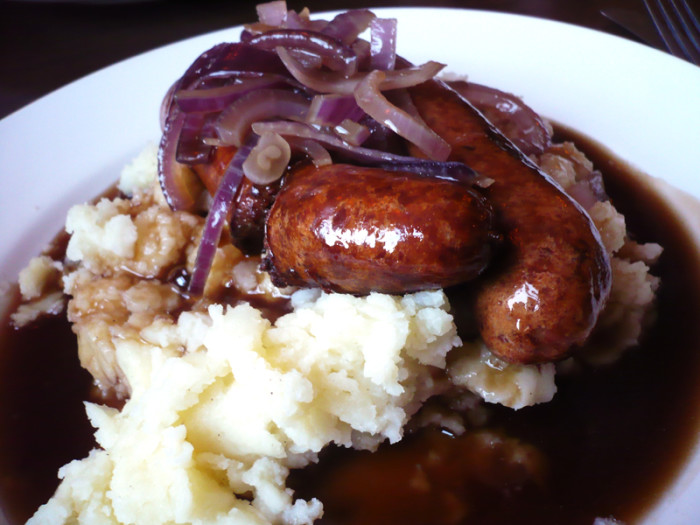 Whoever perfected bangers and mash must have had a profound appreciation for simple, hearty food, possibly had to survive long cold winters and had a knack for pairing food with beer. Oh wait. It was England.
This is the absolute first meal I have upon my arrival in the United Kingdom. Even if I'm just on a layover, many food outlets at Heathrow Airport serve reliable, crunchy pork sausages nestled atop mashed potatoes in which no butter has been spared. Like, no butter left behind. As in, use all the butter you want because the potatoes-to-butter ratio in this recipe directly corrolates with its authenticity, and therefore success.
Using homemade beef stock will produce a much richer-tasting gravy. And I'd like to recognize England's fundamenal culinary wisdom in topping pork sausages with buttery beef juice. That is a love of animals at its finest.
Ingredients
For the sausages
4

large

pork sausages, preferably English bangers

2

tablespoons

canola oil
For the gravy
1

large

yellow onion, thinly sliced

1

tablespoon

flour

1

tablespoon

unsalted butter

1 1/2

cups

beef stock, preferably homemade
For the potatoes
3

large

yukon gold potatoes, peeled and cubed

1

cup

whole milk, at room temperature

3

tablespoons

butter, softened

chopped parsley, to garnish
Directions
Bring a large pot of water to boil, drop the sausages in, lower heat, cover with a lid and cook for 15 minutes. Remove from water and drain on paper towels.
Heat 1 tablespoon of canola oil in a large, heavy-bottomed skillet over medium-high heat. Fry the sausages, turning every 2-3 minutes, until skin is crispy and well-browned. Remove and set aside.
Add the second tablespoon of canola oil to the pan, then add onion and follow our foolproof guide to caramelizing it.
When onion is dark brown and completely soft, add flour and stir well to coat, then pour beef stock over to deglaze the pan, scraping up any bits of onion and sausage that may be stuck to the bottom.
Bring the mixture to a simmer, then reduce heat, add 1 tablespoon of butter, stir well and remove gravy from heat.
Fill a large pot with water, add plenty of salt and cubed potatoes and bring to a boil. Cook until potatoes are fork-tender, 7-8 minutes, then drain and immediately return to pot.
Pour in milk and remaining butter, then mash with a potato masher until smooth but still slightly chunky. Add salt to taste.
Reheat sausages in gravy and serve over mashed potatoes garnished with chopped parsley.