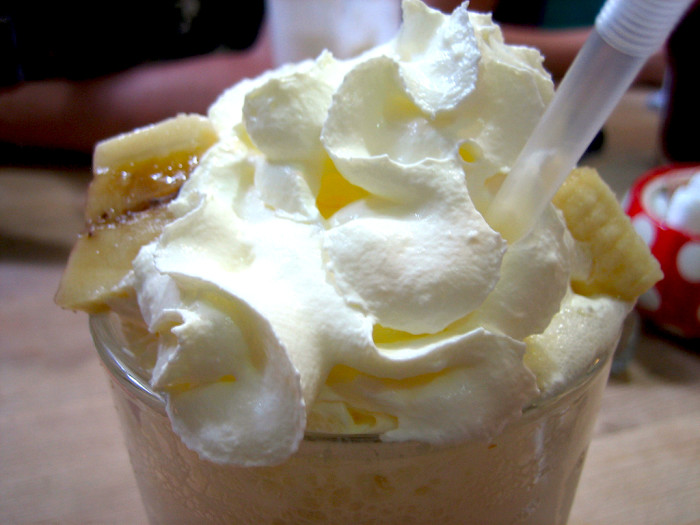 Developed at Brennan's Restaurant for a favored customer, Mr. Foster, fresh bananas sautéed in butter and brown sugar, gently spiced with cinnamon, doused with rum and flamed dramatically, and served with vanilla ice cream is a classic dessert from New Orleans. Since ice cream is part of the program already, I figured it was just one blender away from a shake.
Since the bananas end up in a puree it doesn't matter if they are a little overripe when you start. Steer clear of green-tinted underripe bananas, though, because they won't be quite as sweet as they should be. If you'd like, reserve a slice or two of the cooked banana to garnish the shakes, and a dollop of whipped cream couldn't hurt, either.
To make a Pineapple Foster Shake, substitute 2 cups fresh pineapple chunks (about 16 ounces/454 grams), well drained, for the banana and increase the cooking time to 5 minutes (the pineapple will look dry and very, very lightly browned).
Ingredients
1 1/2

tablespoons

unsalted butter

1

large

banana, sliced

3

tablespoons

light brown sugar

1/4

cup

dark rum

pinch of ground cinnamon

1/2

cup

cold whole or lowfat milk

8

medium scoops

French Vanilla ice cream, softened until just melty at the edges
Directions
For the bananas Melt the butter in a medium nonstick skillet over medium heat and heat until it stops foaming. Add the bananas and brown sugar, stir to help melt the sugar and coat the bananas, and cook, stirring occasionally, until the bananas are soft and saucy, about 2 minutes.
Add 3 tablespoons (1½ ounces/45 milliliters) of the rum, allow it to warm for a few seconds, and carefully wave a lit chimney match over the pan until the rum ignites.
Allow the rum to burn until it extinguishes, about 30 seconds. Off the heat, add the cinnamon, stir to combine, and allow the mixture to cool to room temperature, about 20 minutes.
For the shake Place the bananas, sauce, milk, and remaining 1 tablespoon (½ ounce/15 milliliters) of rum in a blender and blend to mix thoroughly, about 30 seconds. Add the ice cream and pulse several times to begin breaking it up.
With the blender motor off, use a flexible spatula to mash the mixture down onto the blender blades. Continue pulsing, stopping, and mashing until the mixture is well blended, thick, and moves easily in the blender jar, roughly 30 to 90 seconds. Pour into a chilled glass or glasses, and serve at once.