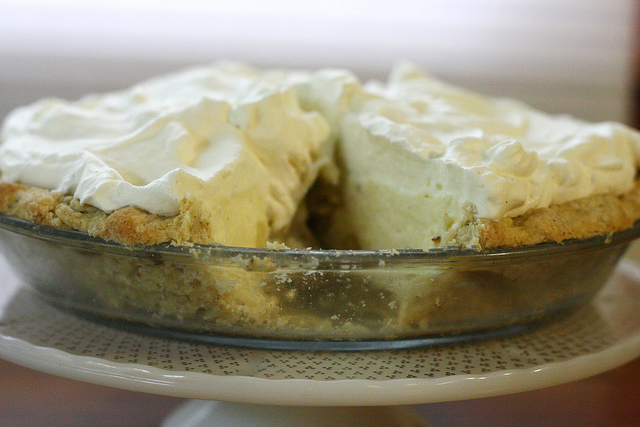 Banana cream pie is a surprisingly overlooked dessert option. Probably because store-bought banana cream pie usually tastes flat, or is really more like cream pie with banana flavoring. Not this banana cream pie recipe. Use ripe bananas, a crunchy Graham cracker crust and a hint of vanilla, and you've got the type of homemade pie that you can serve to almost any group that's happened into your dining room. Or backyard. Did we mention that it's a classic post-BBQ dessert?
One last thing: Banana cream pie is also versatile. You can serve it chilled (recommended) or even at room temperature.
Ingredients
3/4

cup

sugar

3

tablespoons

cornstarch

1/2

cup

heavy cream

1 1/2

cups

milk

1

vanilla bean, split and scraped

3

egg yolks, beaten

4

bananas, ripe but not mushy, sliced

1

tablespoon

unsalted butter

1

(9-inch)

graham cracker pie crust
Directions
Preheat the oven to 350 degrees.
In a saucepan, combine the sugar and cornstarch. Add milk and cream gradually while continually whisking. Cook over medium heat, stirring constantly, until the mixture is bubbly. Keep stirring and cook for about 2 more minutes, and then remove from the heat.
Stir a small quantity of the hot mixture into the beaten egg yolks, then add egg yolk mixture back to the rest of the hot mixture. Cook for 2 more minutes; remember to keep stirring. Remove the mixture from the stove, and add the scraped vanilla bean. Stir until the whole thing has a smooth consistency. Strain through a fine mesh strainer. Add the tablespoon on butter and stir until smooth.
Place the bananas into the cooled graham cracker pie crust. Top with pudding mixture.
Bake for 12 to 15 minutes. Chill for an hour. Top with fresh whipped cream and serve.