Baked Squash With Radicchio Salad Recipe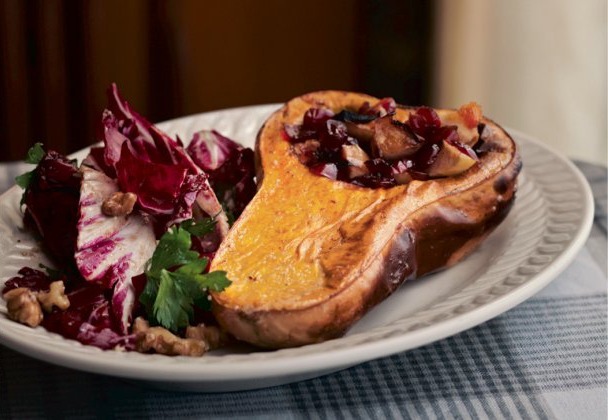 This squash as a built-in bowl for any sort of stuffing.
We may receive a commission on purchases made from links.
While Andrew Carmellini is renowned for his Italian cuisine, his second cookbook, American Flavor, focuses on the diversity of cuisine across the country. From the barbecue in his native Cleveland to the comfort food at his family's dinner table, American Flavor is a good reminder to always expand your repertoire. Here's a vegetarian recipe, in Carmellini's own words.
In my parents' house, my mom is the serious cook: she clips recipes, she keeps files, she annotates and modifies and plans menus. My dad doesn't cook much, but when he does, it's usually something simple and really good. He doesn't work from recipes. When something's in season and tasting really good and he wants to eat it, he always knows exactly what to do to make it delicious, so he kicks my mom out of the kitchen. This is a classic Paul Carmellini fall dish: something he makes every year when the butternut squash is fat and sweet. My dad usually serves this as a side dish with roast pork or chicken, but it's so filling on its own that a half squash per person, with a little bit of radicchio salad to balance the sweetness out, makes a perfect vegetarian meal. If you don't see butternut squash in your local market, acorn squash will work just as well.
Baked Squash With Radicchio Salad Recipe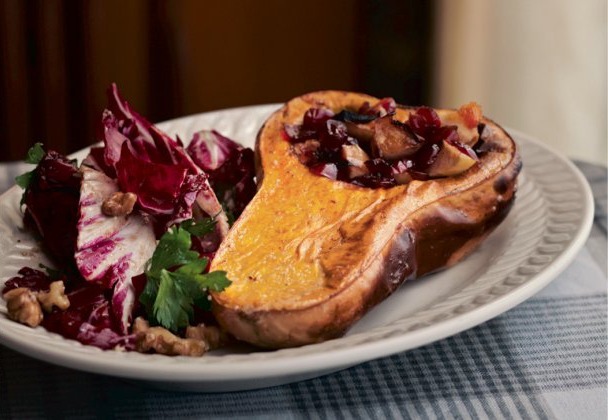 Ingredients
1/2 cup dried cherries or raisins
2 large butternut squash (about 6 pounds total)
1/2 stick (4 tablespoons) unsalted butter
1 medium apple
1/8 teaspoon ground cinnamon
1 tablespoon light brown sugar
1 teaspoon salt
1/2 teaspoon fresh ground black pepper
1 medium head radicchio
3/4 cup chopped walnuts
1/4 cup grated Parmesan cheese
1/4 cup extra virgin olive oil
1 tablespoon red wine vinegar
1 tablespoon balsamic vinegar
1/4 teaspoon salt
1/4 teaspoon fresh ground black pepper
Directions
Preheat the oven to 425°F. Sprinkle the cherries or raisins in the cavities of the squash halves, distributing them more or less evenly.
Cut the butter into 1-tablespoon pieces and put 1 piece in the cavity of each squash half. Distribute the apple pieces in the squash cavities. Sprinkle the cinnamon over the squash cavities. Spoon the brown sugar into the squash cavities. Sprinkle the salt and pepper all over the squash — cavities and flesh.
Place the squash, cavity side up, on a large rimmed baking sheet. Pour 1/4 cup of water onto the bottom of the sheet (to help the squash steam a bit). Cover the baking sheet fully with tin foil, set it on the middle oven rack and bake for about 1 hour, until you can stick a fork in 'em.
Pull the radicchio leaves apart and distribute them in a large bowl.
Mix the walnuts in with the radicchio, tossing with your hands. Add the Parmesan, olive oil, both vinegars, salt and pepper, and mix everything well with your hands, so that all the leaves are coated.
Pick up a squash half with both hands (so you don't lose any of the good stuff) and place it on a plate. Put the salad on the side. Use a spoon to scoop out about half of the mixture inside the cavity and spoon it over the rest of the squash. If you'd like, sprinkle some more Parmesan over the top.
Put a scoop of squash and some of the radicchio salad in your mouth at the same time. The sweetness of the squash, the texture of the cherries, the tartness and texture of the radicchio... awesome.
Butternut Squash And Fresh Tuscan Pecorino Recipe
Butternut Squash Soup With Quinoa Recipe
Butternut Squash And Sage Soup Recipe