Baked Flounder With Parsnips And Carrots Recipe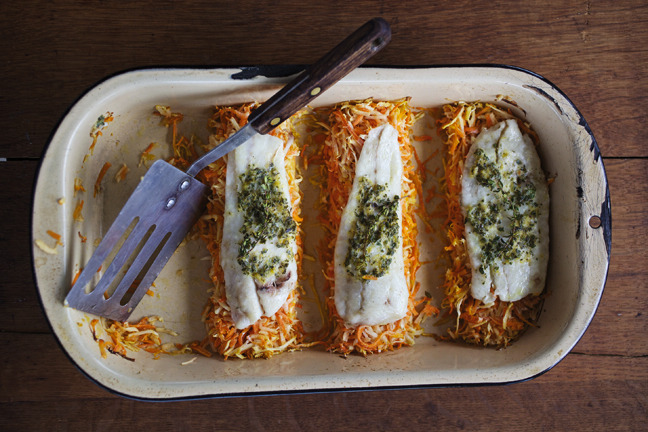 The carrots and parsnips really carry this dish, so choose wisely. (Photo: Jody Horton.
This dish plays off of the natural sweetness of flounder, carrots and parsnips. It is truly a dish of its ingredients, so choose the carrots and parsnips well, because they carry the recipe. Serve this dish as its own course, with no sides, possibly preceded by something with different flavors, like a game terrine or something acidic and pickled. Drink a sweet white wine.
Baked Flounder With Parsnips And Carrots Recipe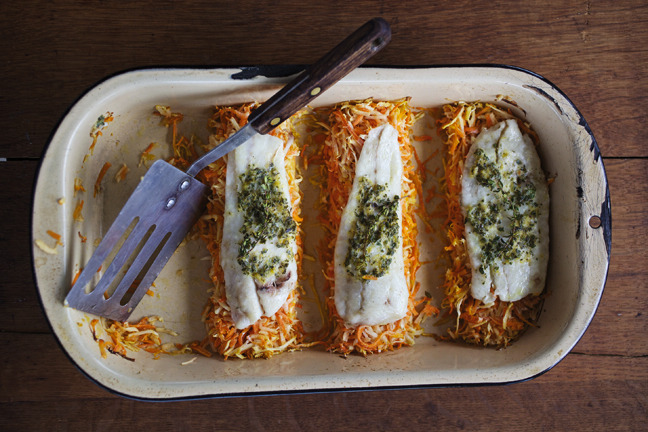 Ingredients
4 fillets flounder
kosher salt
4 medium carrots
4 medium parsnips
2 tablespoons olive oil
6 tablespoons unsalted butter
2 teaspoons fresh thyme leaves
zest of one small lemon
Directions
Preheat the oven to 375°F.
Season the fillets with salt and set aside.
Grate the carrots and parsnips into a bowl, then toss well with olive oil and a pinch of salt.
In another small bowl, mix together the butter, thyme leaves, and lemon zest and set aside.
In a gratin dish or on a baking sheet, lay the grated parsnips and carrots out in four piles the size of the fillets. Lay the fillets on top and spread the seasoned butter on each fillet. Top each fillet with a thyme sprig.
Bake the flounder for 20 to 25 minutes, or until the fish easily flakes and is cooked through. Serve immediately.