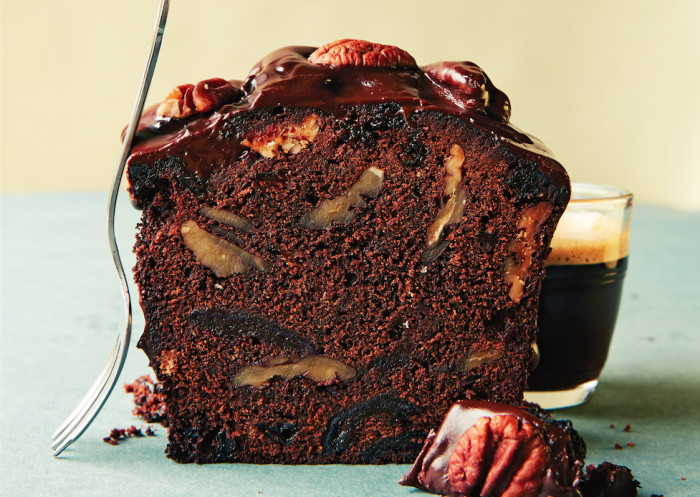 Amsterdam's beloved cook, TV host and magazine editor Yvette Van Boven has a new book out that spotlights her favorite baked goods. Photographed to perfection (see above gem), Home Baked is the one book the home baker, blogger, Instagrammer and general culinary show-off should pick up right away. Hey, everyone wins, right? This dense, chocolaty cake is spiked with pecans in all the right places (as in: everywhere) and a classic confection that will never disappoint.
Ingredients
Cake
1

cup plus 2 tablespoons

butter, plus extra for the pan

1/2

cup plus 2 tablespoons

unsweetened cocoa powder

1 1/3

cups

packed dark brown sugar

2

large eggs

7

tablespoons

buttermilk

1

tablespoon

vanilla extract

2 1/4

cups

all-purpose flour

2

teaspoon

baking powder

2

teaspoon

cinnamon

Pinch of

salt

1/2

cup

dates, pitted and coarsely chopped

1 1/3

cups

raisins

3/4

cup

pecans, plus a handful extra as garnish (briefly toast all the nuts in a dry skillet)
Glaze
3

tablespoons

butter

1/2

cup

milk or cream

5 1/2

ounces

dark chocolate, finely chopped

Pinch of

salt
Directions
For the cake and glaze
Make the cake: Preheat the oven to 350ºF (175°C). Thoroughly grease a 1½-quart (1.5-liter) loaf pan and line the bottom with a piece of parchment paper cut to fit. If you leave the short ends a little longer, they will fold upward like two handles, making it easy to remove your cake later. Grease the parchment paper as well.

Melt the butter in a saucepan over medium heat. Stir in the cocoa powder and ½ cup (125 milliliters) water until you have a smooth sauce. Remove the pan from the heat.

In a jug, beat together the brown sugar, eggs, buttermilk, and vanilla until smooth.

Sift together the flour, baking powder, cinnamon, and salt over another bowl. Spoon the flour mixture into the cocoa-butter mixture and stir until there aren't any lumps left.

Then stir in the egg-buttermilk mixture and fold in the dried fruits and the nuts.

Pour the batter into the prepared pan and bake for about 45 minutes, or until a skewer inserted into the center comes out clean.

Let the cake cool in the pan for 5 minutes, then remove from the pan and place the cake on a rack to further cool off.

Meanwhile, make the glaze: Melt the butter in a heavy skillet over medium heat. Then stir in the milk. When the milk is just about to boil, lower the heat. Add the chocolate and allow it to slowly melt without stirring. Wait about 7 minutes, when all chocolate has melted, before gently stirring the glaze. Now stir in the salt.

Spoon the glaze over the cake. Allow to solidify, and as a final touch, press some extra pecans into the glaze to make your cake look even better.