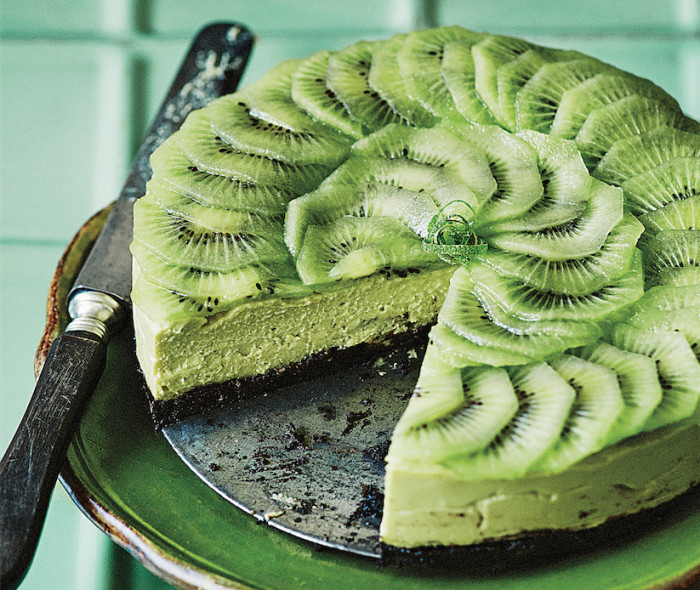 Vegan food is hot, healthy and beautiful to behold — just check out chef, author and blogger Kerstin Rodgers's new cookbook. With simple, creative ways to pump up the produce and leave animal products behind, V Is for Vegan is your new favorite way to keep it plant-based.
Key limes or Mexican limes used in Key lime pie are very different from the usual "Persian" limes that we usually see. Key limes are smaller, more acidic, and the flesh is yellow. Once dried into black lime, they are a useful ingredient in Middle Eastern cookery. The strange thing about both Key limes and Persian limes is that they are ripe when the flesh is yellow, not green.
As it's sometimes hard to get hold of Key limes, I use normal limes. But if you can get hold of Bengali limes (I buy them at Asian supermarkets), then do. They are perfumed, floral and exotic.
Ingredients
Crust
1 1/4

cups

Oreo cookies, finely ground

3

tablespoons

coconut milk
Filling
1 1/4

cups

cashew nuts, soaked in water for 2 to 4 hours, then drained

2

small avocados, peeled and pitted

1/2

teaspoon

sea salt

1

teaspoon

vanilla paste or 1 vanilla bean, split lengthwise

Scant 1/2

cup

coconut oil

Juice of 5 limes, plus the pared zest of 1 for the top (optional)

Slices of kiwi fruit, for the top (optional)
Directions
For the cheesecake
Lightly spray a 7-inch [18-centimeter] loose-bottomed cake pan with oil.

In a mixing bowl, combine the ground Oreos and coconut milk. Press the mixture into the bottom of the cake pan. Chill in the fridge for about 30 minutes.

Put all the ingredients except the lime zest and kiwi fruit into a powerful blender. Process until smooth. Then take the cheesecake base from the fridge and ladle in the green filling.

Decorate with curls of pared lime zest, or with overlapping layers of kiwi fruit slices, or both. Chill in the fridge for 2 hours before serving.