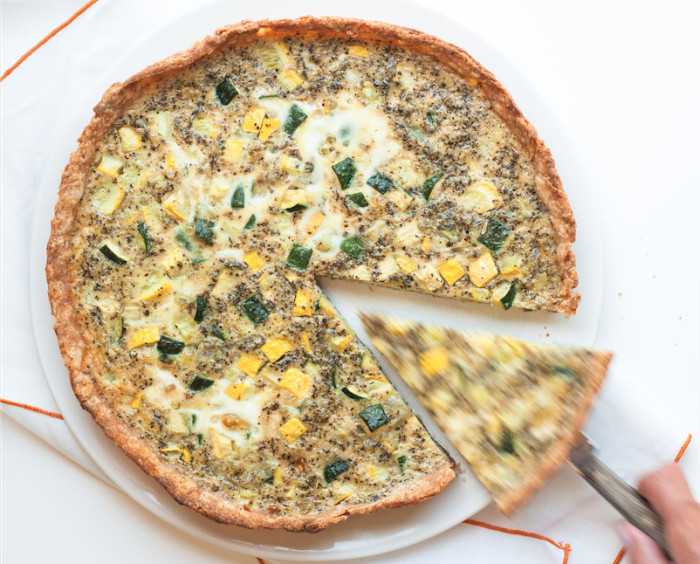 Food writer and blogger Annelies Zijderveld enjoys a strong cup of tea and a cookbook. No, really, her new cookbook, Steeped, is filled with tea-infused recipes. When was the last time you brewed a cuppa to enjoy with dinner? Break out the mint tea and enjoy an extra layer of complexity in this delicious recipe for seasonal summer quiche.
The rustic quality of spelt really shines in this flaky crust, which is flavored with mint, as is the cheesy vegetable filling. I recommend Choice Organic Teas' Moroccan Mint.
Reprinted with permission from Steeped: Recipes Infused With Tea
Ingredients
Spelt Pie Crust
3/4

cup

spelt flour

1/2

cup

all-purpose flour

1/2

teaspoon

kosher salt

8

tablespoons

unsalted butter, cold and cubed

5 to 6

tablespoons

Moroccan mint green tea, brewed and cooled
Quiche
1

tablespoon

olive oil

1

small zucchini, cubed

1

medium yellow summer squash, cubed

1

shallot, sliced

3/4

cup

heavy cream

3

eggs

1/4

teaspoon

fennel seeds

1/2

teaspoon

from 1 bag (cut open) or from loose Moroccan mint green tea, finely chopped

1/4

teaspoon

kosher salt

3 1/2

ounces

Gruyére cheese or Jarlsberg cheese, cubed (1/2 cup)
Directions
To make the crust:
Mix the flours and salt in a large bowl. Using your fingers, rub the butter cubes into the flour until combined and pea-sized. Mix the cold tea into the flour with your hands until the dough coheres. Form the dough into a ball and wrap in plastic wrap; refrigerate for 30 minutes or until as firm as a baseball.

Lightly flour a work surface, your hands, and a rolling pin. Roll away from the middle of the dough and rotate the dough. Roll and rotate until the dough is ⅛-inch thick. Fit the dough into a 10-inch tart or pie pan. Trim the excess above the pan sides, but keep the crust walls tall. Refrigerate 30 minutes.
To make the quiche:
Preheat the oven to 425°F. Fit a sheet of aluminum foil into the crust and pour in pie weights, uncooked rice, or dried beans. Bake 20 minutes. Remove the weights and foil and bake the crust 3 to 5 minutes longer. Lower the oven to 400°F.

Meanwhile, place a 12-inch fry pan over medium-low heat for 1 minute. Swirl the oil into the pan. Sauté the zucchini, squash, and shallot for 5 minutes. Turn off the heat and cool. Whisk the cream and eggs in a bowl. Stir in the fennel, tea, salt, Gruyère and squash. Pour into the cooled crust. Bake for 20 to 25 minutes or until a toothpick comes out clean. Cool 10 to 15 minutes before slicing.
More quiche recipes on Food Republic: