Bake 'Em Fresh: Hummingbird Oatmeal Cookies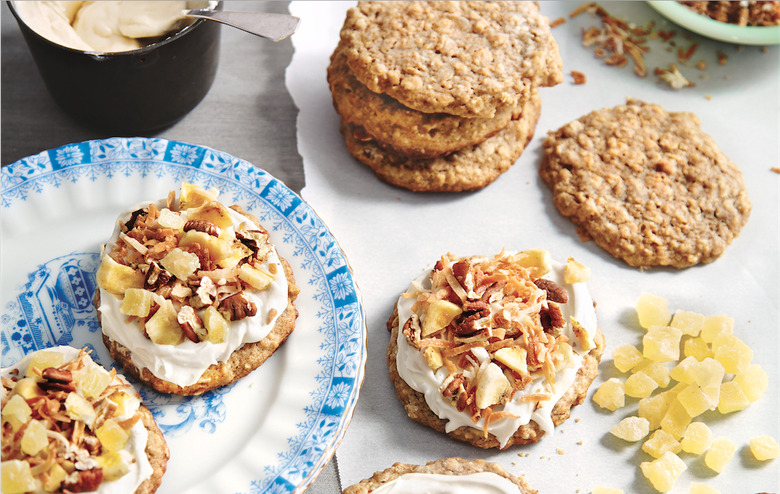 We may receive a commission on purchases made from links.
If you need triple-tested, much-beloved recipes for anything, turn to the experts at Southern Living magazine's test kitchen. Craving cookies? Their new collection is stacked and loaded with everything you need to know to churn out perfect batch after perfect batch. 
These cookies are inspired by the famous Hummingbird Cake recipe submitted by Mrs. L.H. Wiggins of North Carolina, featured in the February 1978 issue of Southern Living. No time for frosting? They're delicious unadorned, too.
Bake 'Em Fresh: Hummingbird Oatmeal Cookies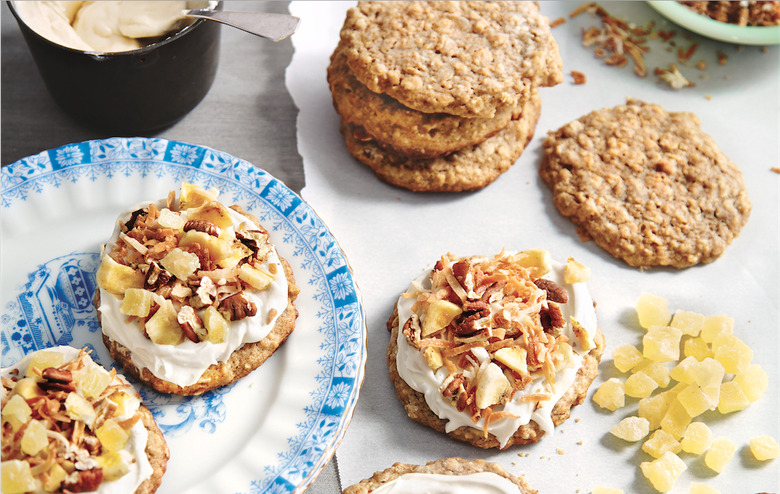 Ingredients
1 cup butter
1 cup firmly packed light brown sugar
1 teaspoon vanilla extract
2 large eggs
2 cups all-purpose flour
2 teaspoons ground cinnamon
1 teaspoon baking soda
1/2 teaspoon kosher salt
1/2 medium-size ripe banana
1 1/2 cups uncooked regular oats
1 cup finely chopped pecans
1/2 cup finely chopped dried pineapple
parchment paper
1/2 cup chopped dried banana chips
1/2 cup sweetened flaked coconut
1/2 cup toasted chopped pecans
2 cups sifted powdered sugar
1/2 cup softened cream cheese
1 teaspoon vanilla extract
1/2 teaspoon kosher salt
1/4 cup heavy cream
Directions
:::cookies:::
Preheat oven to 350°F. Beat butter, brown sugar, and vanilla at medium speed with an electric mixer 3 to 5 minutes or until creamy. Add eggs, 1 at a time, beating until blended after each addition.
Combine flour, cinnamon, baking soda, and salt in a medium bowl; gradually add flour mixture and mashed banana to butter mixture, beating just until blended. Add oats and next 2 ingredients; stir until blended.
Drop dough by heaping tablespoonfuls 2 inches apart onto 2 parchment paper–lined baking sheets. Flatten dough slightly with bottom of a glass dipped in flour.
Bake, in batches, at 350°F for 12 minutes or until golden. Cool on baking sheets 10 minutes. Transfer to wire racks and cool completely (about 20 minutes).
Spread Cream Cheese Frosting over each cookie (about 1 1⁄2 tsp. per cookie); sprinkle with banana chips, coconut, and toasted chopped pecans, pressing to adhere.
:::frosting:::
Beat powdered sugar, softened cream cheese, vanilla extract, and kosher salt with an electric mixer 3 to 5 minutes or until creamy. Add heavy cream and beat until smooth.