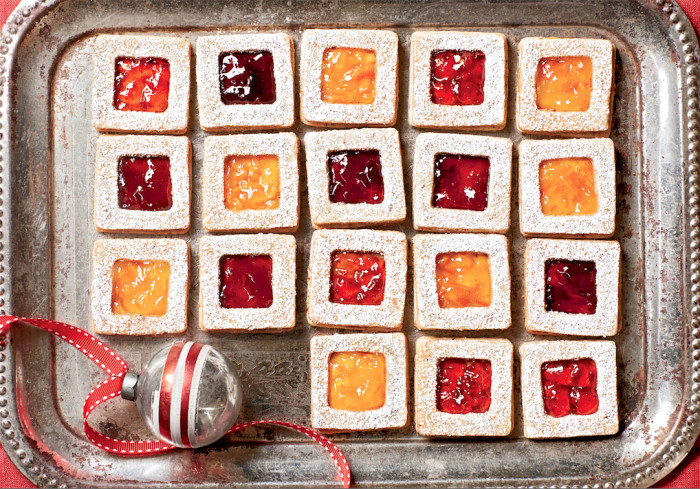 Get your holiday bake on with Christmas Cookie Swap! This book of winter treats, like jam-filled pecan linzer cookies, will fill your house with the wonderful fragrance of seasonal baked goods. From the chip-studded to the peppermint-coated and sugar-sprinkled, there's a recipe in here for every dessert lover. 
For different flavors and colors, use an assortment of jams to fill the centers of these beauties.
Ingredients
2 1/4

cups

all-purpose flour

1

cup

pecan halves

1

teaspoon

ground cinnamon

1/2

teaspoon

ground cloves

1

cup

butter, softened

1/3

cup

granulated sugar

1

teaspoon

grated lemon rind

1

large egg

1

large egg yolk

Plastic wrap

parchment paper

1/4

cup

powdered sugar

6

teaspoons

peach jam (or other desired flavors)
Directions
For the cookies
Pulse the first 4 ingredients in a food processor until finely ground.

Beat the butter, granulated sugar, and rind at medium speed with an electric mixer 1 minute. Add the egg and egg yolk; beat 30 seconds. Scrape the bowl; beat 30 seconds. Add the flour mixture, beating until combined.

Shape the dough into 2 (1/2-inch-thick) rectangles. Wrap each rectangle in plastic wrap, and chill 4 hours to 3 days.

Generously flour both sides of the dough; place on parchment paper. Roll each into a 14- x 10-inch rectangle. Cut each rectangle into 24 (2-inch) squares, rerolling the scraps as needed. Chill on the parchment paper 30 minutes.

Preheat the oven to 350°F. Line baking sheets with parchment paper. Place the cookies 1 inch apart on prepared baking sheets. Cut the centers out of half of the cookies with a lightly floured 1 1/4-inch square cutter. (If desired, place dough centers on a parchment paper–lined baking sheet; chill 15 minutes, and bake as directed.)

Bake at 350°F for 12 to 14 minutes or until the edges are golden. Cool completely on parchment paper on a wire rack (about 20 minutes).

Sprinkle powdered sugar over cutout cookies. Spread about 1/4 teaspoon jam onto each solid cookie; top with cutout cookies. That's a wrap. Stack cookies on a pretty tray from a flea market, wrap with cellophane, and tie with ribbon.