Bak Kut Teh Recipe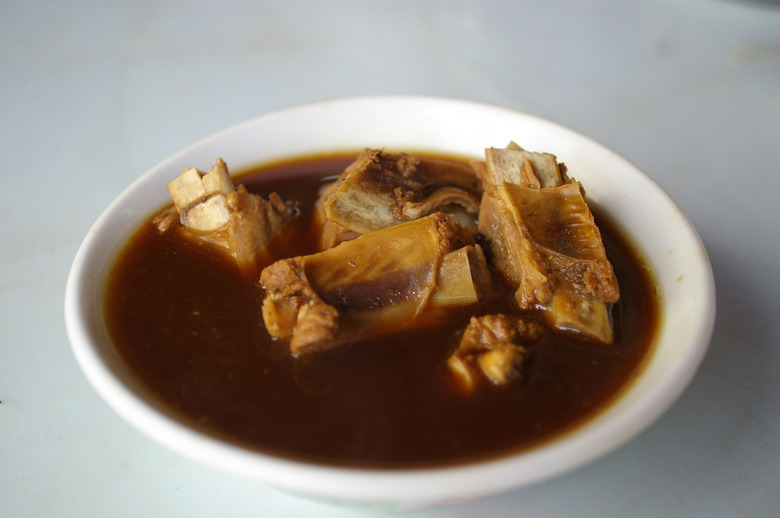 Bak Kut Teh
Bak Kut Teh literally means Pork Bone Tea soup and is a Chinese soup dish believed to be introduced into Malaysia in the 19th century by Chinese workers. It become famous out of the port town of Klang where it was traditionally served as a breakfast dish.
It flowed over into Singapore and even parts of Taiwan. (They will probably argue about where it originated!)
With an ever so slightly medicinal taste, the broth is infused with spices such as cinnamon and star anise. Loaded with pork ribs, dried shiitake mushrooms, tofu puffs, and garlic, this soup fills the kitchen with evocative scents.
While kicking around the backstreets of Kuala Lumpar, I was lucky enough to find a Buk Kut Teh stall. Not sure at first what I had stumbled across, I could only image that the boiling aromatic pot of pork bone and spices had to be great thing at 11am in the morning, and a good way to start off the day.
This dish has become a popular item at events, and also was the star of the show in a recent dinner at the James Beard house.
Bak Kut Teh Recipe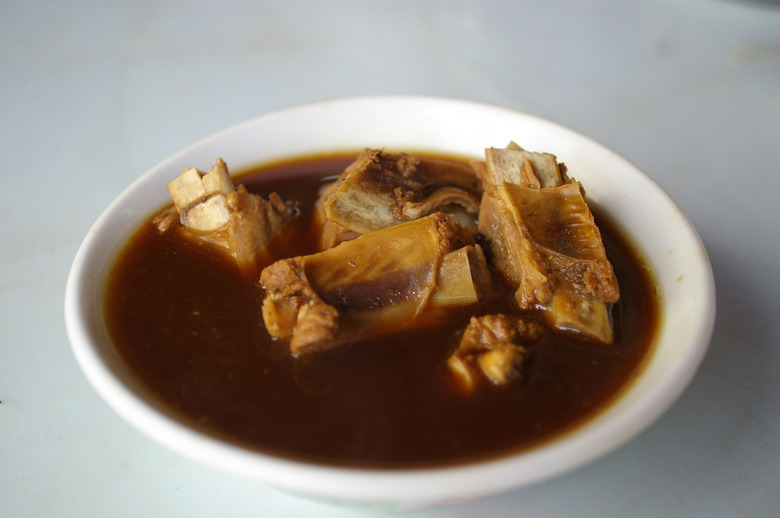 Ingredients
3 pounds pork ribs
1 gallon water
6 dried shiitake mushrooms
1 bunch whole scallion
1 tablespoon whole coriander seeds
5 pieces whole star anise
2 packs of Bak Kut Teh herbs (found in Asian specialty stores)
1/2 cup soy sauce
1 tablespoon oyster sauce
A few dashes of white pepper powder
salt to taste
1 sheet rice noodles
4 fresh Shiitake mushrooms
1 cup picked cilantro leaves
2 cups bean sprouts
Diced pork meat
4
1/2 cup fish saue
1/2 cup lime juice
3 tablespoons white sugar
Directions
Place pork ribs in a heavy base pot, cover with cold water and boil the ribs until froth rises to the surface. Allow to simmer for 10 minutes. 
Remove ribs from the pot, discard water. Clean pot thoroughly. 
In the same pot add ribs, water, dried shiitake, scallions and whole spices. On a low to medium heat bring to stock to a simmer.
Once simmering add spice bag and continue cooking for a 1 hour. 
After 1 hour the meat should start falling of the bone. At this point add the seasoning liquids and cook for a further 30 minutes. 
Remove pork ribs from the stock, while still warm this is the best time to separate the meat. 
Gently remove any bones and cartilage. With your finger 'pull' the pork. Set aside 
Divide the noodles, sliced shiitake and pork meat between 4 large soup bowls. 
Bring the broth back up to a boil.
In a separate mixing bowl place, bean sprouts, cilantro, sliced chili and mix together. 
Divide the soup into the four bowls. 
Just before serving place the bean sprout salad on top of the broth, finish with a sprinkle of crispy shallots. 
Mix all ingredients in a bowl.
Serve in sauce ramekin.