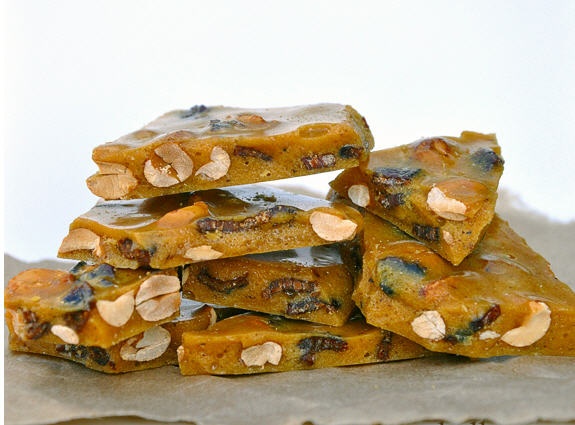 Here it is, the recipe so good, it beat out hundreds of entries to win one of two first prizes in the Macy's Recipe Share Contest, with winners chosen by Food Republic's own Maureen Petrosky. Winner Pamela Braun, who brought the bacon home to a classic peanut brittle, gets a $1,000 Macy's gift card and a signed copy of New American Table by Marcus Samuelsson — not to mention a place in Food Republic's Recipes section!
It's a delicious dessert that's perfect for the holidays. It can be made ahead, leaving you time to toast with friends and family. It can be wrapped up and given as a gift. And best of all it's original, a conversation-starting recipe that's pretty easy to make. Oh yeah, and it tastes awesome.
Ingredients
2

cups

sugar

3/4

cup

water

1/2 plus 1/3

cup

corn syrup

3/4

cups

dry roasted peanuts

8

slices

bacon, thick cut, uncured, smoked

1

teaspoon

salt

1/8

cup

unsalted butter

1/2

tablespoon

vanilla extract

1/2

tablespoon

baking soda
Directions
Preheat oven to 400 degrees Farenheit.
Line a baking sheet with parchment paper and lay out 8 pieces of bacon (do not overlap the pieces).
Bake for 15 - 20 minutes. Check on the bacon to make sure it's browned and crisp. If not, continue baking and checking on it in 5 minute intervals.
When done, remove from oven and lay bacon on a plate that has a double layer of paper towels on it. (You can use the bacon grease left on the pan for other things or let it cool and throw away.)
Once cool, chop the bacon in 1/4" - 1/2" pieces.
Attach candy thermometer to saucepan. Combine sugar and water in a saucepan. Bring to a boil while stirring.
Add corn syrup and continue cooking until 239°.
Add peanuts and bacon and cook to 311°, stirring constantly.
Remove from heat and add salt, butter, and extract. Add baking soda and stir well to incorporate.
Pour mixture onto parchment paper lined pan and spread it evenly.
When cool, break into pieces and enjoy. Store in airtight container.