Bacon Crab Melt Panini Recipe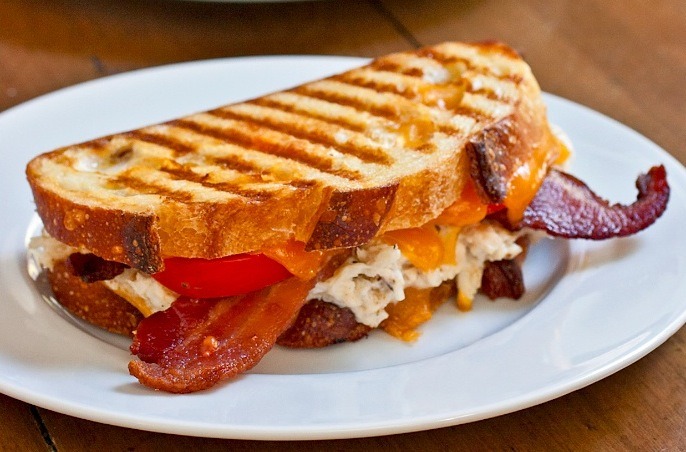 Photo: Kathy Strahs
We may receive a commission on purchases made from links.
We don't need to tell you how excited we are to plow through a whole cookbook of genius panini combinations. But suffice it to say, thanks to author Kathy Strahs' recent release, The Ultimate Panini Press Cookbook, we're firing up the press, slicing bread off the loaf and inspecting the fridge for any "extras" that might make these awesome, melty grilled sandwiches just a little better.
This is the type of sandwich that, to me, falls under the category of "diner food." And I say that as someone who has a high respect for diners and their iconic place in American culture. Let's be honest: Some of the ingredients they use aren't always the healthiest—but, man, the food sure tastes good.
If I ever encountered Bacon Crab Melt Panini on a diner menu—or any menu, really—it's a safe bet that I'd order it. The sandwich starts with crabmeat that's tossed in a dressing with tons of bright, fresh flavors and then layered onto sourdough bread with sliced tomato, bacon and sharp cheddar cheese. And then, of course, it gets all toasty and melty on the grill. I'm not ashamed to admit that I like to indulge in such things from time to time. Somehow I have a feeling I'm not the only one!
Reprinted with permission from The Ultimate Panini Press Cookbook
Bacon Crab Melt Panini Recipe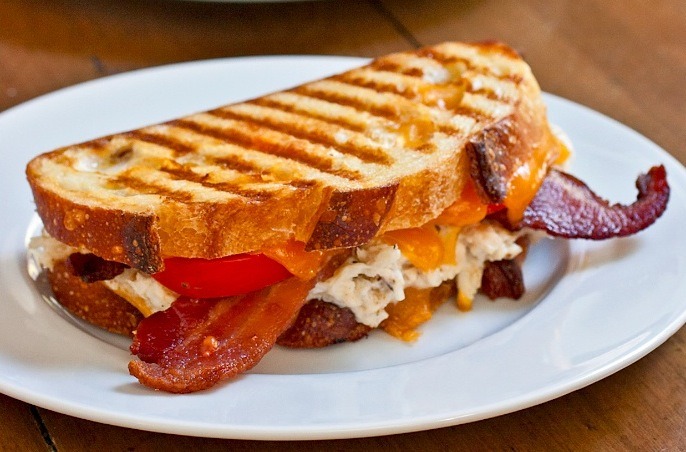 Ingredients
4 tablespoons mayonnaise
2 tablespoons chopped celery
1 tablespoon freshly squeezed lemon juice
1/2 teaspoon Old Bay Seasoning
1/2 teaspoon Dijon mustard
coarse salt and freshly ground black pepper
12 ounces lump crabmeat
4 tablespoons (1/2 stick) butter
8 slices sourdough or other rustic white bread
4 ounces sharp cheddar cheese
8 strips cooked bacon
2 plum tomatoes (such as Roma)
Directions
Heat the panini press to medium-high heat.
In a medium-size bowl, combine the mayonnaise, celery, lemon juice, Old Bay seasoning, Dijon mustard and salt and pepper to taste. Stir in the drained crabmeat.
Spread butter on two slices of bread to flavor the outside of each sandwich. Flip over one slice and top the other side with cheese, crab salad, bacon, tomatoes and more cheese. Close the sandwich with the other slice of bread, buttered side up.
Grill two panini at a time, with the lid closed, until the cheese is melted and the bread is toasted, 4 to 5 minutes.
Fried Soft-Shell Crabs Benedict Recipe
Baltimore Crab Pretzel Sticks Recipe
Jumbo Lump Crab Hash With Poached Eggs Recipe