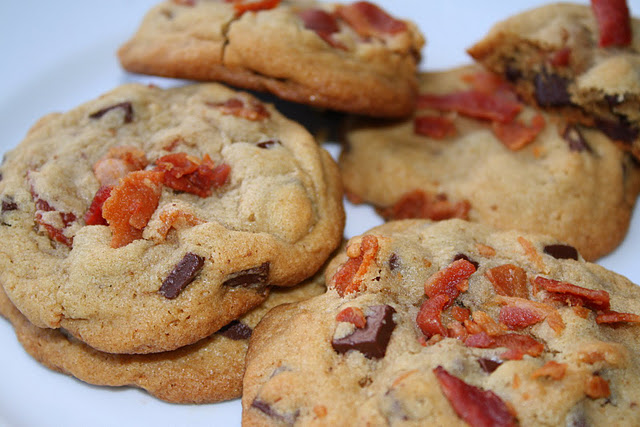 From Michelle Oddis, that confectionary genius who brought you caramel apple Jell-O shots (our favorite treat of the fall) and gingerbread cheesecake cookies, comes the snack you've been waiting for — Bacon Chocolate Chip Cookies. Boom!
The salty bacon brings out the complexity in chocolate and complements it perfectly. Chocolate chip cookies and bacon, two of our absolute favorite things, join forces to create just about the best cookie on Earth.
Ingredients
1

egg

1

stick

butter

1

box

chocolate chunk cookie mix

8-10

slices

bacon
Directions
Preheat oven to 375 degrees. Place two sheets of paper towel on a microwave safe plate. Place half of your bacon on top of the paper towel (absorbs the grease) then more paper towel on top of the bacon. Microwave for 5-6 minutes. Bacon must be crisp, not chewy. Repeat with remaining strips and set aside to cool.
Mix room temperature butter and egg until combined, then add chocolate chunk cookie mix. Knead with hands if necessary.
Rough chop your bacon strips.
Mix bacon into cookie dough.
Roll about two tablespoons (or one for smaller cookies) into balls, (no need to make them perfect), and place them on an ungreased cookie sheet. Bake for 12-15 minutes or until just golden around the edges. Cool before removing from the cookie sheet.
Eat one and then give them away immediately.