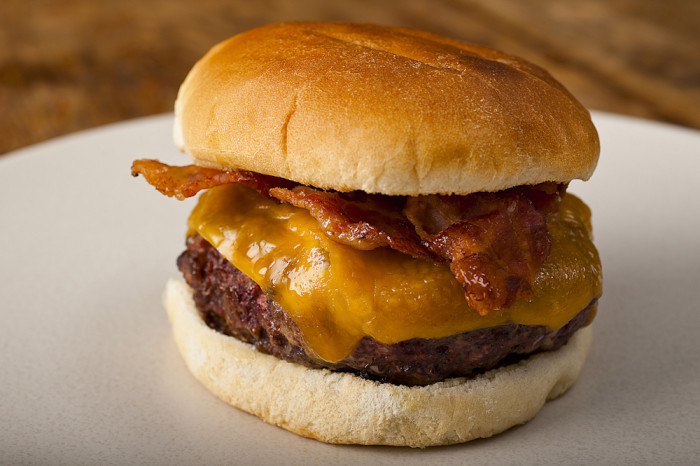 If you can shape a burger patty and make it all the way through our comprehensive guide to cooking perfect bacon, your goal of a Bacon Cheddar Burger is well within reach. And since you're cooking bacon and shaping your own perfect burger patties, why not whip up a batch of homemade burger buns? It's one of the easiest baking recipes we've ever encountered, and definitely worth the effort. Give that bacon juice something respectable to soak into.
Prepare to have your mind blown: if you use homemade pimento cheese instead of sliced cheddar, you get all the tangy cheese flavor you were going for with a texture that really complements a juicy, smoky burger. Master this sweetheart of the burger menu and you're on your way to certified Grillmaster status. They have a secret handshake and everything.
Ingredients
2

pounds

freshly ground chuck, (at least 80% lean, a.k.a. 80/20)

1

tablespoon

onion powder

1

teaspoon

salt

1

teaspoon

6

thick slices

cheddar cheese, at room temperature

12

slices

thick-cut bacon, cooked and drained

6

large

Hamburger buns, preferably homemade
Directions
In a large bowl, mix ground beef, onion powder, salt and pepper until just combined. Do not overmix, or your patties will be tough.

Divide into six portions and form patties, without pressing too hard. They should be uniform in thickness. Smooth out any cracks using your fingers, or use our handy trick for shaping perfect burger patties. Make these right before you grill them, so they stay at room temperature.
Preheat your grill, grill pan or cast-iron skillet to high heat and add burger patties. If using a grill, cover with the lid.
Cook until the crust that forms on the bottom of the burger releases it from the pan or grate — about 2 minutes. Gently test, but don't flip it until it gets to this point. When burgers lift up easily, flip, add a slice of cheese to each, close lid if using a grill, and cook on the other side for another 2-3 minutes for medium to medium rare.
Remove burgers with a sturdy metal spatula and transfer to a plate. Allow to rest for several minutes, then transfer to buns, top with bacon and serve.