Bacon And Scallop Empanadas Recipe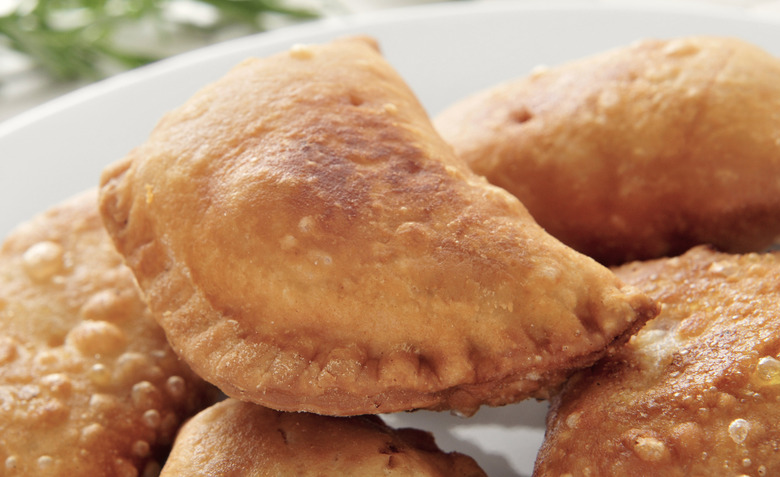 In honor of Craft Beer & Spirits Week, I created a dish to pair with one of my favorite styles of beer: the Belgian tripel. It's a hoppy, malty ale with a boozy punch up to 9% ABV, and makes me crave bacon-wrapped scallops. Adding a crispy fried element really pulled the whole pairing together: I give you the bacon-scallop empanada with lemon-butter crust. These pair perfectly with Victory Brewing's Golden Monkey or New Belgium's Trippel.
This dough is made specifically for frying, not baking. If you're going to bake them, just add an egg to the dough and use less water (about an egg's worth less of water).
Bacon And Scallop Empanadas Recipe
Servings
20
-24 empanadas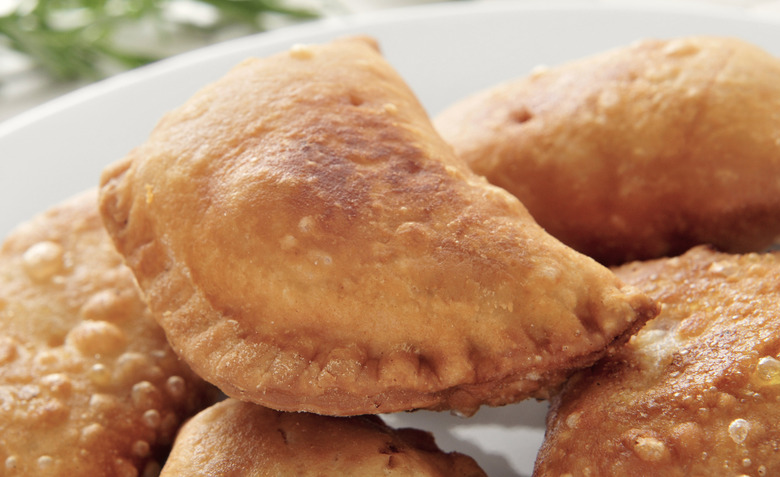 Ingredients
3 cups all-purpose flour
1 teaspoon baking powder
1/4 teaspoon salt
1 1/2 sticks (6 ounces) cold butter
2 tablespoons freshly squeezed lemon juice
2/3 cup water
1 pound potatoes (Yukon gold)
Salt and pepper
1/2 teaspoon smoked paprika
1 cup chicken stock
2 tablespoons butter
1 pound fresh bay scallops
Salt and pepper
1/4 cup scallions
4 tablespoons butter
juice of half a lemon
1/3 pound cooked chopped bacon
Directions
If you have a stand mixer, use it to mix your dough. Otherwise, get ready for some manual labor. Mix all your ingredients for the dough, and make sure the butter is well-distributed.
Form into a ball, wrap loosely with plastic wrap and let sit at room temperature for about an hour.
Make a bunch of little balls that are roughly the same size — I usually get 20-24 balls out of this dough recipe — roll them into 3-4 inch circles and lay them out on baking sheets lined with wax paper without overlapping them. Stick them back into the fridge (or freezer) until you're ready to use them.
Heat 2 tablespoons of butter on medium-high heat in a medium pot and add the potatoes, salt, pepper and smoked paprika. Toss to coat evenly.
Fry for 6-7 minutes on one side (without stirring) so they crisp up.
Add a cup of chicken stock, cover with a lid and reduce to a light simmer.
Cook for about 15 minutes (stirring every 3-4 minutes), or until the liquid is gone. Set aside and let cool.
Heat 4 tablespoons of butter in another pan on medium high heat.
Add the scallops, scallions, salt and pepper and toss to coat.
Squeeze in the juice of half a lemon (no seeds!)
Cook for about 5 minutes, stirring occasionally. Set aside and let cool.
Mix the potatoes, scallops and chopped bacon and set aside. You can save the filling in the fridge for up to 24 hours if you want to do this ahead of time.
Fill dough rounds by placing about 3-4 tablespoons of filling on one half of the circle.
Fold the other half over, and roll the edge, starting from one end and angling your roll toward the opposite side. Make sure it's tight enough that it won't pop open when you fry it. You can alternately crimp them with a fork, making sure to form a tight seal.
You can save these in the fridge for a couple days, or even freeze them until you're ready to cook them (let them thaw at room temperature for about 15 minutes before you try to fry them if you do freeze them).
Heat 3-4 inches of vegetable oil in a deep pan like a Dutch oven to about 350F.
Fry the empanadas in batches without overfilling the pan, about 5-6 minutes, or until golden brown on both sides, flipping halfway through.
Remove using a slotted spoon to a paper-towel lined tray, drain for several minutes and serve warm with a cold beer.
Peruvian Clams A La Parmesana Recipe
Bacon Basil-Wrapped Shrimp Recipe
Black Tie Scallops Recipe