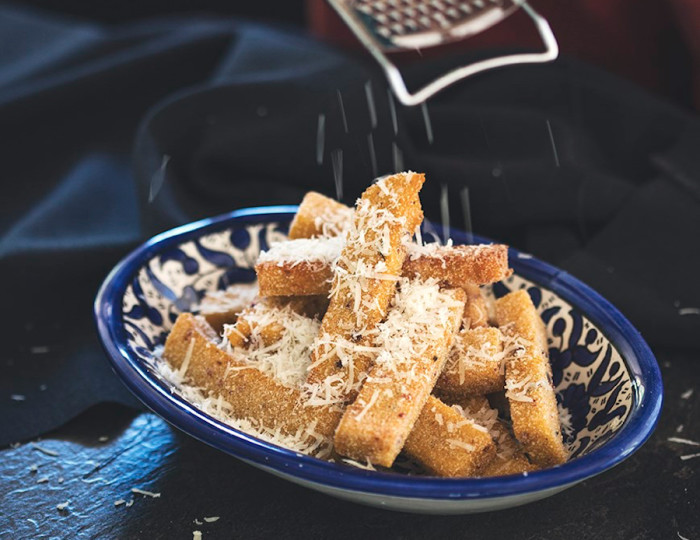 Australian chef and author Billy Law's new book, Man Food, is an ode to all things, well, man food. And real men make their "epic burgers" out of Wagyu beef (plus, Law was on Masterchef — what exactly's not to love there?). Pick up a copy and just wait 'til you see the snacks section. Here's a deep-fried peek.   
If you've never tried polenta fries, then you've got to make this, pronto! These fries are soft and cheesy on the inside and — because they've been coated with semolina — crisp on the outside. The semolina also acts as a shield to stop the oil from seeping into the polenta chips and making them greasy and easy to fall apart.
Ingredients
2

tablespoons

olive oil

2

bacon slices, cut into thin strips

4

cups

vegetable stock

2

cups

instant polenta

1

cup

grated Parmesan, plus extra for serving

1

tablespoon

thyme leaves

1

tablespoon

finely chopped sage leaves

Sea salt and freshly ground pepper, to taste

1/2

cup

fine semolina or polenta (cornmeal)

Oil for shallow-frying

Parmesan, to serve
Directions
For the polenta fries
Heat the oil in a frying pan over a medium-high heat, fry the bacon for about 10 minutes, or until very crisp and almost dark brown in color. Drain the bacon on paper towel. Once the bacon is completely cool, chop with a knife or use a food processor to blitz into coarse crumbs.

Heat the stock in a large saucepan over a medium-high heat to a rolling boil. Using a wooden spoon, stir the stock as you rain the polenta into it. Reduce the heat to low and stir continuously for 10-15 minutes, until the liquid has been absorbed and the polenta is very thick. Add the Parmesan, herbs and bacon crumbs, then stir until fully incorporated. Taste and season with salt and pepper.

Pour the polenta into a lightly greased 7 x 12¾ baking tin. Spread the polenta evenly, using a wet spatula or your hand, smooth and press down firmly. Let it cool to room temperature, then refrigerate for 2 hours or until it sets.

Cut the polenta into 1/2-inch sticks about 3 1/4 inches long. Place the semolina in a shallow bowl. In batches, toss the polenta sticks in the semolina to coat evenly, shake off any excess and place on a tray ready for frying.

Heat ½ inch of oil in a frying pan over a high heat. Add the polenta in batches and do not overcrowd; fry for 2-3 minutes each side or until golden. Remove and drain on paper towel; season with salt while hot. Transfer to a serving bowl and grate a generous amount of Parmesan cheese on top.