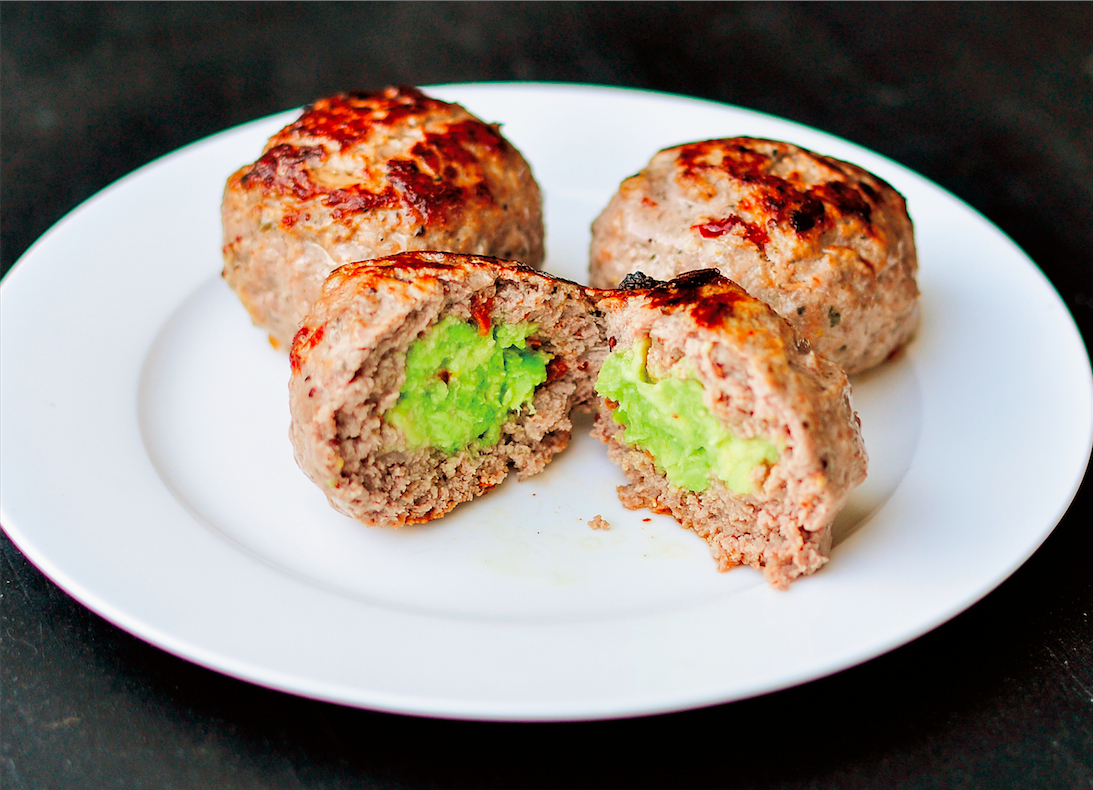 If you've ever found yourself staring down the perfectly ripe avocado in your kitchen willing yourself not to make yet another batch of guac, meet your new favorite cookbook. Cook and blogger Elizabeth Nyland has 75 recipes for the star of the produce bin, starting with your new favorite meatball: avocado-stuffed.
Meatballs are a favorite in our house, simply because they are a simple, quick meal to make that the kids love. They are perfect for little hands to pick up without the need for utensils and also delicious in many kinds of sauces. My kids will even eat them cold the next day for lunch! You may think stuffing them would be difficult, but the secret is to use a very small amount. Be careful when folding over the edges to seal up the meatball, as the filling can seep out a bit. For an exotic flair, try using a tablespoon of minced preserved lemon rind in place of the lemon zest and juice.
Ingredients
1 1/2

pounds

lean ground grass-fed beef

1

pound

lean ground pastured pork

3

tablespoons

sun-dried tomatoes, chopped

1

tablespoon

grainy Dijon mustard

1

teaspoon

dried basil

1 1/2

teaspoons

sea salt

1

teaspoon

grated lemon zest plus 1 1/2 tablespoons lemon juice

1

large

avocado, halved, pitted and peeled

2

teaspoons

coconut oil
Directions
Preheat the oven to 400°F.
In a large bowl, combine the beef, pork, tomatoes, mustard, basil, 1 teaspoon of the salt and the lemon zest.
In a separate bowl, mash the avocado, then add the lemon juice and remaining 1/2 teaspoon salt and stir to combine.
Form the meat mixture into small (golf ball-sized) balls with your hands and working with one at a time, create a divot in the center to form a sort of hollow cup. The meat should be about 1/2-inch thick.
Fill the center with about 1 teaspoon of the avocado mixture and then carefully pinch the edges around to seal it in. (You may need to add a tiny piece of the ground meat mixture to seal it up tight; you don't want any of it escaping during the cooking process.)
In a large, heavy-bottomed frying pan, heat the oil over medium heat.
Add the meatballs and cook until slightly browned on all sides, 1 to 2 minutes.
Transfer the browned meatballs to a baking sheet and cook in the oven for 10 to 15 minutes. Serve immediately.
Find more meatball recipes on Food Republic: