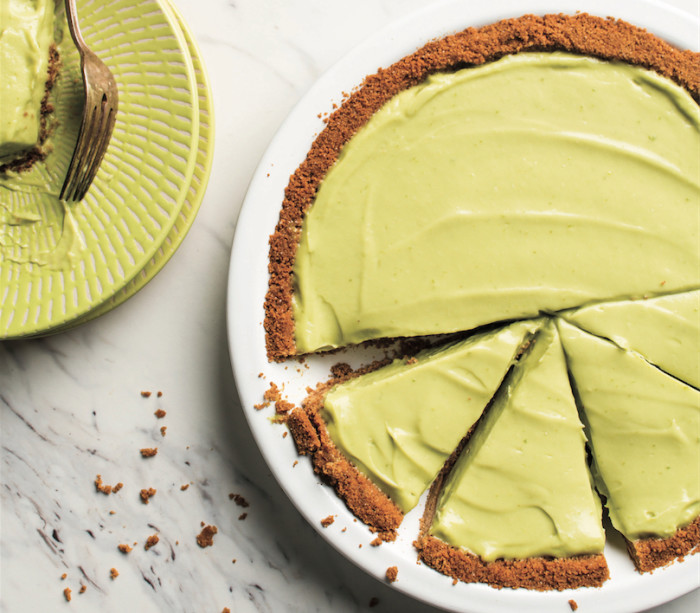 Portland-based food writer and cookbook author Lara Ferroni turns her focus on the humble but mighty avocado in her new collection of recipes. Pick up a couple of "gator eggs" and a copy of An Avocado a Day to switch up your creamy green game and infuse this wondrous ingredient into things you never imagined. You love avocado and lime, and you're going to love this avocado key lime pie. 
Can't get key limes? You can make this recipe with regular limes, but it won't be quite as tart. You can also use bottled key lime juice, but don't skimp on the fresh lime zest.
Ingredients
Crust
1 1/2

cups

finely ground graham cracker crumbs (from about 10 squares)

3

tablespoons

granulated sugar

2

pinches

sea salt

1/3

cup

coconut oil or unsalted butter, melted
2

cups

smashed avocado, fresh or frozen and defrosted

1/2

cup plus 2 tablespoons

freshly squeezed key lime juice (from about 5 limes)

1/2

cup

sweetened condensed coconut milk

4

teaspoons

key lime zest (from about 2 limes)

1

teaspoon

vanilla extract

Pinch

kosher salt
Directions
For the pie
To make the graham cracker crust, pre-heat the oven to 350 degrees F.

In a medium bowl, combine the graham cracker, sugar and salt. Add the coconut oil and stir until the crumbs are evenly coated. Press the crumbs into the bottom and up the sides of a standard 9-inch pie dish using a spoon or the bottom of a measuring cup. Bake the crust until lightly browned, about 10 minutes. Remove the pie crust from the oven and cool it on a rack in the dish for 15 minutes, and then refrigerate until well chilled, about 1 hour.

This crust can be tightly wrapped in its dish and frozen for up to 2 weeks. Thaw before using.

In a blender, blend the avocado, lime juice, condensed milk, lime zest, vanilla and salt until smooth and silky. Spoon the mixture over the graham cracker crust.

Cover and refrigerate the pie for at least 2 hours and preferably overnight.